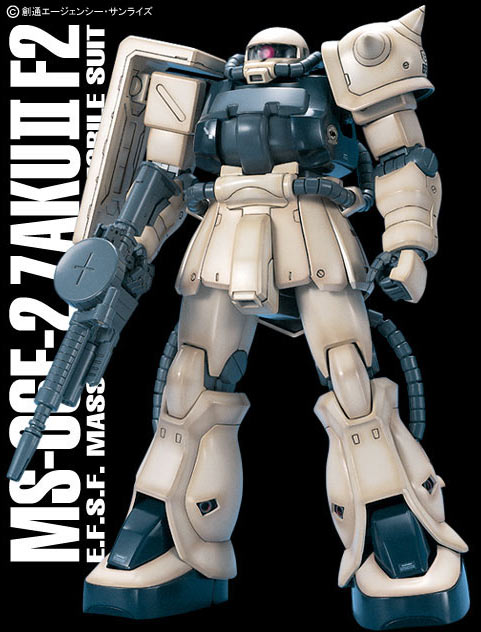 Gundam 0083: Stardust Memory was the second Gundam Anime I ever watched right after Zeta Gundam. While I was out hunting for my first Master Grade model kit to purchase, the
MS-06F2 Zaku II EFSF version
from Gundam 0083 was my second choice of purchase, incase I wouldn't be able to get my first choice, which was the
MG Rick Dias
.
In the anime, it was shown that this version of the Zaku was salvaged by the EFSF for use as training mechas for their cadets. When the action broke out, this Zaku (and their cadet pilot) was drafted into service to fight the Zeon remnants as well as to re-capture the stolen Gundam mobile suit.
A Zaku is a Zaku is a Zaku. I have to admit however that what really drew me to liking this particular mobile suit was the sandy color scheme it had on. Talk about simple tastes *snicker*
The MG MS-06F2 Zaku II F2 EFSF is selling for
3000 yen
at
HobbyLink Japan
,
2400 yen
at
Hobby Search
,
$$$
at Amazon 3rd party sellers.
Color Guide for the MG MS-06F2 Zaku II F2 was translated to English from the Japanese color guide posted at
Hobby Search
. Comprehensive review of the MG ZakuII F2 EFSF can be found at
Dalong's Gunpla Review site
.
Available at these Online Shops:
Related Products