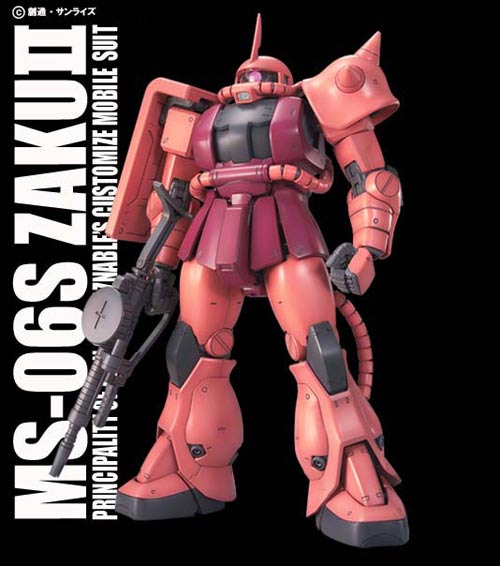 Every search for a hero must begin with something which every hero requires, a villain.
That was Dr. Nekhorvich's line in the Mission Impossible II movie 10 years ago. In Mobile Suit Gundam that villian was personified as Char Aznable, as the perfect foil to Amuro Ray. As the series progressed however we get to see that he isn't that much of a villian. In the sequel Zeta Gundam, Char even joined the forces of "good" by siding with AEUG in its battle against the Titans. In Char's Counterattack however, Tomino cast him again at opposites of Amuro Ray. But watching the anime however we can see that there was an "end justifies the means" theme going there for Char that seeks to justify his actions.
The MS-06S Zaku was the iconic mobile suit of Char Aznable in the first episode of Mobile Suit Gundam 0079. Amuro Ray couldn't have become what he was without having gone up against Char Aznable, who has the reputation of being called the Red Comet, the foremost ace of the Principality of Zeon.
The MS-06S Zaku II of Char Aznable is selling for
$$$$
at Amazon,
1,834 yen
at
Amiami
,
3500 yen
at
HobbyLink Japan
,
2450 yen
at
HWJapan
.
Available at these Online Shops:
Related Products
Construction Manual for the MG MS-06S Zaku II of Char Aznable was translated to English from the Japanese manual posted at
Dalong's Model kit review site
. Color Guide for the MS-06S Zaku II of Char can be found
here
. For the meaning of the symbols found in the model kit's manual, refer to this
old post
.