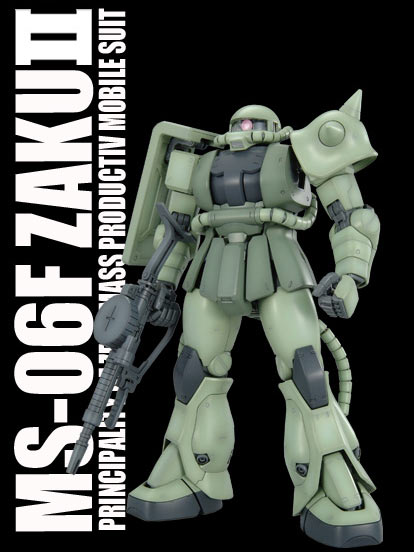 The
1/100 Master Grade MS-06F Zaku II ver 2.0
. The iconic Zaku is the cannon fodder unit of the antagonist, Principality of Zeon, in the first Mobile Suit Gundam anime series. Its great that Bandai decided to make a version 2 of this model kit that had better features and details than the original version 1.0.
Compared to Amuro Ray's RX-78-2 Mobile Suit Gundam I prefer the design of the Zaku. I started watching the first few episodes of Mobile Suit Gundam this year then suddenly dropped off. I should really try watching it for the sake building up my "street cred" on Gundam history *snicker*
According to the literature included in the manual, the fictional actual size of the Zaku is 17.5 m, weighs 58.1 tons bare and 73.3 tons loaded. Its power plant generates about 950kw of energy. Fans will probably be very familiar with its weapons load, which is the Zaku Machine Gun, Zaku Bazooka and of course the Heat Hawk for up-close and personal work.
The Master Grade MS-06F Zaku II ver 2.0 is selling for
2565 yen
at
Amiami
,
3500 yen
at
Hobby Link Japan
,
2450 yen
at
HWJapan
.
Available at these Online Shops:
Related Products
Construction Manual and Color Guide for the MG MS-06F Zaku II F was translated to English from the Japanese Manual posted at
Dalong
. For the meaning of the symbols found in the manual, kindly check out this older
post
.







I just realized a slight mistake, it should be: "(so that it doesn't fall off) remove piece by piece till the location at the pipe shown at the illustration"