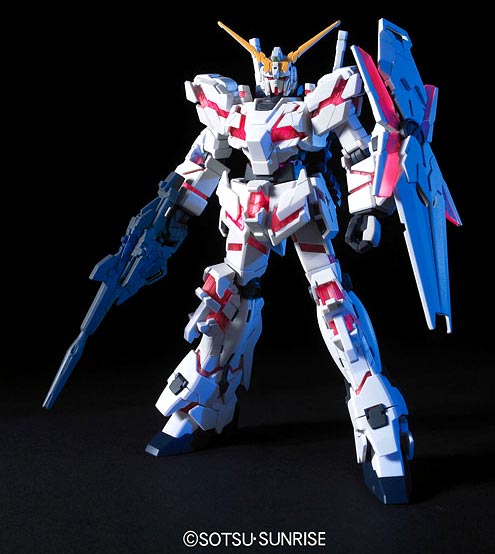 Banagher Links' RX-0 Unicorn Gundam from the Unicorn Gundam OVA made into a High Grade kit by Bandai. This version is in Destroy Mode with the face exposed, antenna unfolded and the frame expanded. There is also a bigger
master grade version of the Gundam Unicorn from the OVA
as well as an
MS Cage version of the MG Gundam Unicorn
.
If you haven't watched
episode one yet of the Gundam Unicorn OVA
I'd suggest you do as you'd really get blown away with how they animated the fight scenes of Marida Cruz in her
Kshatriya
. One other reason why I'd recommend watching episode 1 is because episode 2 is supposed to come out fall of this year, so that you don't get lost with what's been happening.
The HGUC RX-0 Unicorn Gundam [Destroy Mode] is selling for
1320 yen
at
Amiami
,
1260 yen
at
HobbyLink Japan
,
1440 yen
at
Hobby Search
,
$$$$
at Amazon 3rd party sellers.
Available at these Online Shops:
Related Products
Construction Manual and Color Guide for the HGUC RX-0 Unicorn Gundam (Destroy Mode) was translated to English from the Japanese manual posted at
Dalong's Gunpla Review Site
.