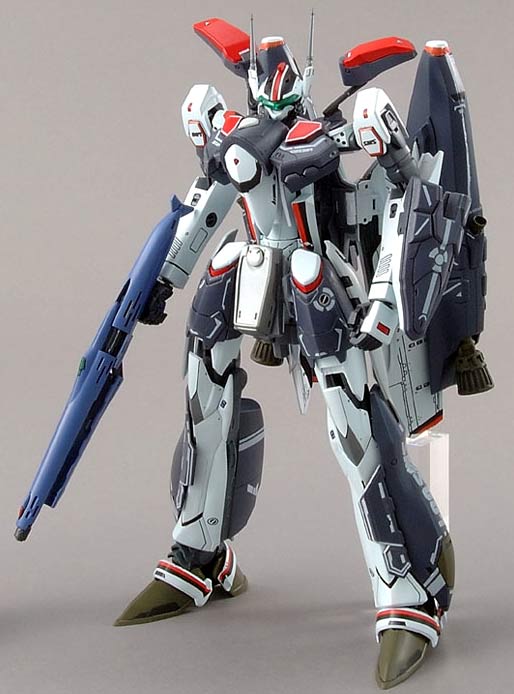 The
1/72 VF-25F Super Messiah Valkyrie of Alto Saotome
from the Macross Frontier Anime. This is the Variable Fighter (VF) that defines the Macross Frontier series. Of course, in the mold of all protagonists in the Macross Universe that was popularized by Hikaru Ichijo in Macross DYRL, it has to sport a red and black motif. I only realized now the Shin Kudo of Macross Zero was the only one who didn't carry this trademark color scheme.
This model of the VF-25 Messiah comes with the optional Super Parts included. The super part's purpose is to improve the offensive and defensive capabilities of the ordinary VF-25. That's with the inclusion of additional boosters, missiles and armor. Like with most super packs, they also increase the range of the VF by allowing it to store more propellant in its recesses.
The granddaddy of all
super packs is the one used by the very first VF
, the
VF-1S
. But if we follow the series timeline, the very first super packs were used by the VF-0's of
Macross Zero
.
Kinda nice too that they decided to number the Messiah Valkyrie as number 25, so that it pays homage to the 25th anniversary of the Macross Franchise. I guess once Macross hits 30 years (which will be a few years from now) they will no doubt have a 30th anniversary anime and in that anime there will be a VF-30... hehehe... here's me hoping that that will come true... :D
The 1/72 Super Messiah Valkyrie is selling for
6500 yen
at
Hobby Link Japan
and
5850 yen
at
HWJapan
The Construction manual was translated to English from the Japanese Manual posted over at
Dalong
. Refer to this previous post
for the meaning of the symbols found in the manual
.





























Available at these Online Shops:
Related Products