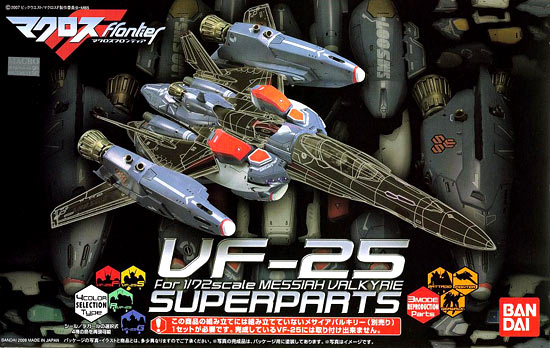 The
Messiah Valkyrie Super Parts
for the 1/72 Messiah Valkyrie line of model kits made by Bandai for their Macross Frontier series. This was sold as separate kit so that you could have the chance to equip your bare VF-25 Messiah Valkyrie with this. There are four VF-25 models available, these are the VF-25F of Alto Saotome, VF-25S of Ozma Lee, RVF-25 of Luca Angeloni and VF-25G of Michael Braun.
According to the manual it says that you should build this kit together with an unassembled VF-25. Makes sense really since it would be hard to take apart a VF-25 once its already assembled. Plus you run the risk of scratching the paint as well as breaking the parts. But if you have the knack for taking apart an already built and painted model kit then this definitely won't be a problem for you.
The 1/72 VF-25 Messiah Super Parts kit usually sells for
2000 yen
at
Hobby Link Japan
,
1800 yen
at
HWJapan
and
$
at some Amazon 3rd party suppliers.
Available at these Online Shops:
Related Products
Construction Manual for the 1/72 VF-25 Messiah Super Parts was translated to English from the construction manual posted at
Dalong
. Translated Color Guide for the Super Parts can be found
here
. Meaning of the symbols found in the model kit manual can be found
here
.