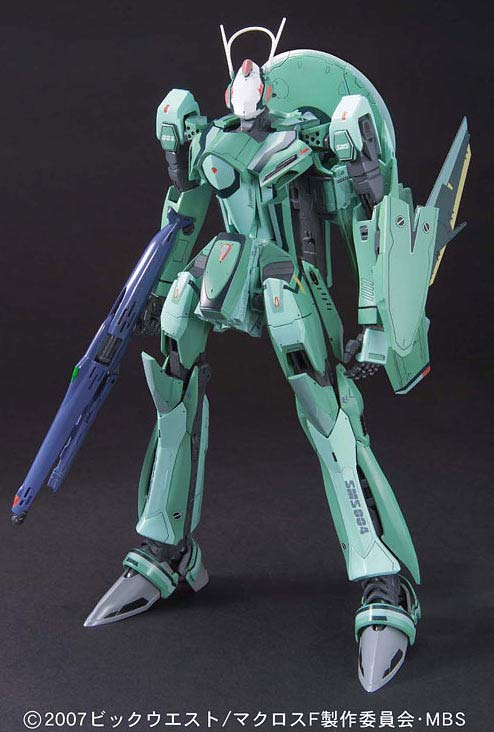 Luca Angeloni's RVF-25 Messiah Valkyrie from the Macross Frontier movie series. The RVF-25 is the reconnaissance version of the VF-25 Messiah that is used by the SMS Skull Squadron. The purpose of the RVF-25 is as a communications and electronic warfare platform.
It was depicted in Macross Frontier as not really being offensively active in battles partaken by Skull Squadron. But this doesn't mean that he is practically useless in a battle. The RVF-25 collects data on enemy tactics and technology that can be eventually used in developing tactics to combat them. It also acts as a battlefield observation platform wherein it records the battle and beams the images back via its fold communications system so that the commanders in charge can direct its forces where it is most needed in order to achieve victory.
The RVF-25 relies more on the 3 Ghost fighters to provide it protection. These come included with the model kit. The only time that Luca Angeloni tried to use his Gunpod, he had it shot out of his hand by an enemy unit. The 3 Ghost fighters have also been affectionately named by Luca to be Simon, Johann and Peter. No doubt taken from the Apostles of Jesus. In times of duress Luca has been known to unleash the Judah System of his 3 Ghost units that boost further its combat abilities. Similar to the effect of overclocking one's computers CPU unit.
The 1/72 RVF-25 Messiah Valkyrie of Luca Angeloni is selling for
5800 yen
at
Hobby Link Japan
,
5220 yen
at
HWJapan
,
4250 yen
at
Amiami
.
Available at these Online Shops:
Related Products
Construction Manual was translated to English from the Japanese manual posted at
Dalong
. Color Guide for the RVF-25 Messiah Valkyrie can be found
here
. Refer to this previous
post for the meaning of the symbols found in the manual
.














It should be: "move up the leg's side armor", was actually sleepy enough to include the word "left"...hehehe, sorry about that