Gundam 00 fans, or any Gundam Fan for that matter, who want to feel the fulfillment and accomplishment of having a large Gundam in their collection that is sure to stand out in your display cabinet but can't afford a Perfect Grade or HY2M Glorious kit should try the cheap 1/60 BigScale that Bandai releases.
I actually bought the
1/60 GN-001 Gundam Exia
already but haven't gotten around to building it. Not that I don't want to. Like a fine wine I'm trying to savor the build, but thinking about it now, the feeling for me really is more like a velociraptor circling its prey. I'm trying to build the confidence and skill set needed to built this kit by working first on smaller kits. Not that I'm planning anything fancy with this build, just want to build a "clean" direct out of the box build of this that I can be proud of.
The
1/60 GN-001 Gundam Exia
is selling for
3302 yen
at
Amiami
,
4500 yen
at
Hobby Link Japan
,
3,150 yen
at
HWJapan
.
Available at these Online Shops:
(#Ads)
Similar Gundam Exia
Related Color Sets, Add-ons & Reference Materials
(#Ads)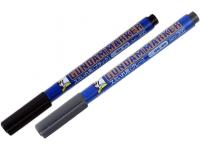 Related Products
* Check/Uncheck the boxes to make finding equivalent colors easier

Uncheck ALL
AK INTERACTIVE AK 3rd Gen Acrylics
AK INTERACTIVE AK Acrylics
AK INTERACTIVE AK Real Color
ALCLAD II ALCLAD II
AMMO by Mig Jimenez Ammo Acrylics
Acrylicos Vallejo Vallejo Game Air
Acrylicos Vallejo Vallejo Game Color
Acrylicos Vallejo Vallejo Liquid Gold
Acrylicos Vallejo Vallejo Mecha Color
Acrylicos Vallejo Vallejo Metal Color
Acrylicos Vallejo Vallejo Model Air
Acrylicos Vallejo Vallejo Model Color
Acrylicos Vallejo Vallejo Panzer Aces
Citadel Colour Citadel
E7 Paints E7 Paints
GSI Creos Corp Acrysion
GSI Creos Corp Aqueous Hobby Color
GSI Creos Corp Gundam Color
GSI Creos Corp Mr. Color
GSI Creos Corp Mr. Color Clear Color GX
GSI Creos Corp Mr. Color GX
GSI Creos Corp Mr. Color Super Metallic
GSI Creos Corp Mr. Color Super Metallic 2
GSI Creos Corp Mr. Crystal Color
GSI Creos Corp Mr. Metal Color
GSI Creos Corp Mr. Metallic Color GX
GSI Creos Corp Primary Color Pigments for Mr. Color
GSI Creos Gundam Color Spray
GSI Creos Gundam Marker
GSI Creos Mr. Color Spray
GSI Creos Mr. Hobby Primer Surfacer
GSI Creos Mr. Hobby Top Coat
Gaia Notes GAIA Enamel Color
Gaia Notes Gaia Color
HATAKA HOBBY Hataka
Humbrol - Hornby Hobbies Humbrol Acrylic
Humbrol of Hornby Hobbies Humbrol Enamel
Italeri Italeri
Lifecolor Lifecolor
Mission Models Mission Models
Revell of Germany Revell Aqua Color Acrylic
Revell of Germany Revell Email Enamel
Tamiya, Inc Tamiya Color Acrylic Paint
Tamiya, Inc Tamiya Color Acrylic Paints (Flat)
Tamiya, Inc Tamiya Color Spray For Aircraft
Tamiya, Inc Tamiya Color Spray Paints
Tamiya, Inc Tamiya Enamel
Tamiya, Inc Tamiya Lacquer Paint
Tamiya, Inc Tamiya Spray
Tamiya, Inc Tamiya Top Coat/Primer/Surfacer
Testors of Rust-Oleum Group Testors Model Master Acrylic
Testors of Rust-Oleum Group Testors Model Master Enamel
The Scale Modellers Supply SMS
Xtracolor Xtracolor

Construction Manual
Instruction Manual