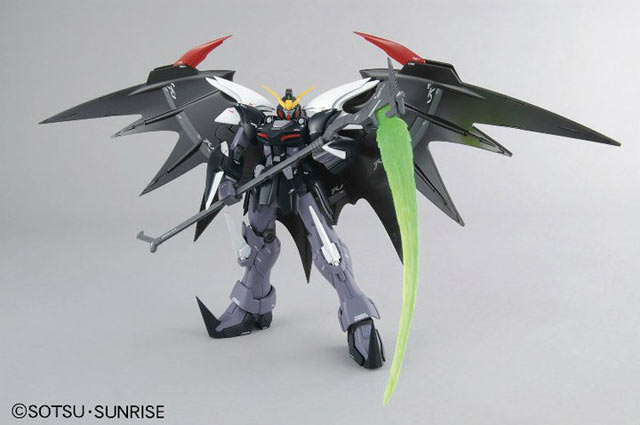 Approximately five months after the
MG Gundam Deathscythe
was released by Bandai, they released the Deathscythe Hell from Endless Waltz. Major difference from the former is the addition of the wing parts plus having a different color scheme.
If you feel duped that Bandai released two versions of a slightly different mecha in just a span of a few months, console yourself with the thought that this is a lesson to practice restraint when purchasing so as not to fall to the similar trap again in the future. But if you don't feel duped and are just happy as a clam that Bandai released two slightly different versions of the Gundam Deathscythe, then Good For You! *snicker*
The 1/100 Master Grade XXXG-01D2 Gundam Deathscythe Hell is selling for
3280 yen
at
Amiami
,
3600 yen
at
HobbyLink Japan
,
3825 yen
at
Hobby Search
.
Available at these Online Shops:
Related Products
Color Guide and Construction Manual
for the MG XXXG-01D2 Gundam Deathscythe Hell was translated to English from the Japanese manual posted at
Dalong's Gunpla Review site
. For the meaning of the symbols found in the model kit's manual, kindly refer to
this post
.