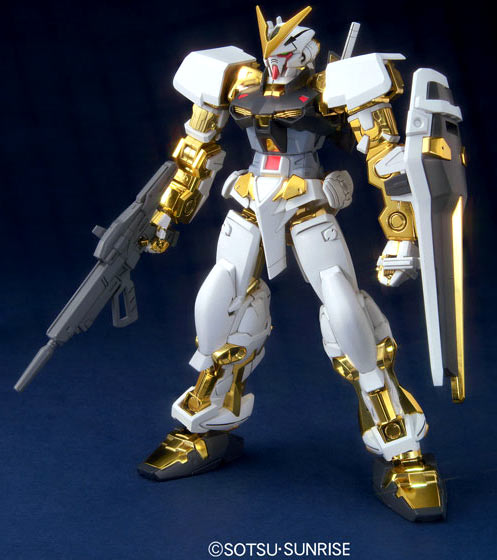 Between the
Gold Frame Amatsu
and this, the Gold Frame Amatsu definitely looks a lot better in my book. But then again I have to look at it in context. This was the first generation version of the Gundam Astray Gold Frame so it looks plain and like the others (Blue Frame and Red Frame.) But yeah, I'll still pass on this model kit *snicker*
In the Gundam Astray storyline, Rondo Gina Sahaku, a nobleman of Orb attempted to salvage the 3 Gundam Astray's being constructed by Orb in secret but left to be destroyed after the attack of ZAFT in Heliopolis in the Gundam Seed anime series. Orb did this so as to keep the project secret. He was able to escape with the Gold Frame after blowing a hole for escape with the aid of a Bazooka built for the Duel Gundam. The use of the Bazooka however resulted in damage to the arm of the Gold Frame which Rondo Gina Sahaku just discarded. This set the stage for the one armed Gundam Astray Gold Frame to be the main antagonist in the Seed Astray series.
The 1/100 non grade Gundam Astray Gold Frame is selling for
2930 yen
at
Amiami
,
4000 yen
at
Hobby Link Japan
,
2800 yen
at
HWJapan
,
$$$$
at Amazon 3rd party sellers.. And like the
Gold Frame Amatsu
, its selling price is relatively higher than the normal Gundam Astrays.
Construction Manual and Color Guide for the 1/100 Gundam Astray Gold Frame was translated to English from the manual posted at
Dalong
.
Available at these Online Shops:
Related Products