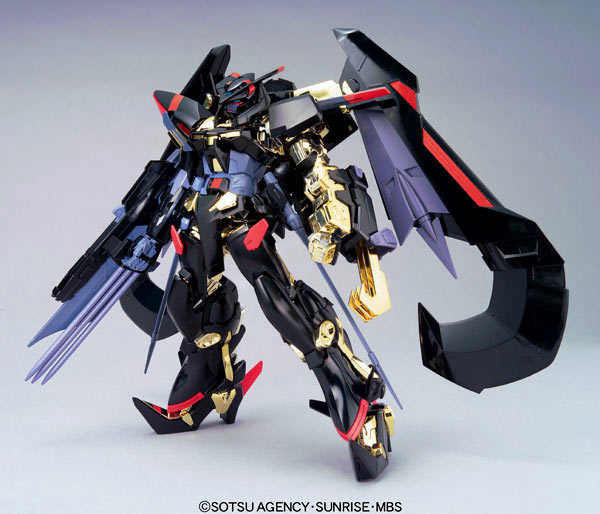 Rondo Mina Sahaku's MBF-P01-Re2 Gundam Astray Gold Frame Amatsu from the Gundam Seed vs Astray line of 1/100 kits. Based from my understanding of the literature and with the help of "the Google", the Rondo Ghina's Gundam Astray Gold Frame was destroyed and his sister, Rondo Mina took over and upgraded the salvaged Gold Frame. And of course took over a long standing tradition of being the antagonist in the Seed Vs Astray Series.
I always liked the Gundam Astray design made by Orb in the series. I have already built the 1/100 non grade Gundam Astray Blue Frame and still procrastinating on when to build the 1/100 Gundam Astray Red Frame. I have stopped building kits altogether. The main reason being because I have no more work area in the house. Till I can find a suitable work area I can't proceed to build kits. Its been bubbling inside me for a long time I know and I vented it out in this post... hahaha I just love building model kits because I find so much joy and experience such tranquility when assembling one.
The 1/100 Gundam Astray Gold Frame Amatsu is selling for at
2788 yen
at
Amiami
,
3800 yen
at
Hobby Link Japan
,
$$$$
at Amazon 3rd party sellers.. Not sure if its because of its size or the popularity of the kit that it commands a higher price than the regular non-grade 1/100 kits in the Gundam Seed vs Astray of Bandai model kits.
Manual was translated to English from the Japanese manual posted at
Dalong
. Looking at the manual posted at Dalong I didn't see any color guide included. I guess Bandai intended this to be just a straight out of the box build. Wouldn't stop me from painting it though *snicker*







Available at these Online Shops:
Related Products