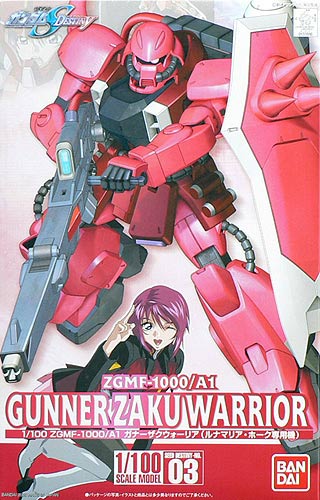 Lunamaria Hawk's Zaku Gunner Warrior from the Gundam Seed Destiny series that was made into a lovely 1/100 kit by Bandai. Together with Rey Za Burrel and Shinn Asuka they were the mobile suit complement of the Minerva battleship of ZAFT. This Zaku variant is a long range specialist and houses the Othros cannon attachment.
If I understand it correctly, Lunamari, Rey and Shinn were classmates in military school. Lunamaria also had a sister in the ZAFT armed forces, Meyrin, who was a bridge operator at the Minerva who coordinated the mobile suits. Early at the Gundam Seed Destiny series it was outwardly visible that Lunamaria had an infatuation with Athrun Zala.
Available at these Online Shops:
Related Products
The ZGMF-1000/A1 Gunner Zaku Warrior Lunamaria Hawk is selling for
1685 yen
at
Amiami
,
2300 yen
at
Hobby Search
,
2300 yen
at
Hobby Link Japan
,
1610 yen
at
HWJapan
and
$$$$
at Amazon 3rd party sellers.