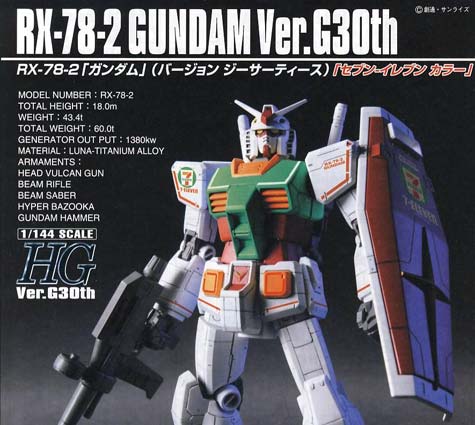 During Gundam's 30th anniversary, there was a tie up of the Gundam franchise with the 7-11 store franchise and one of the things that came out of that was a limited edition HG RX-78-2 Gundam in 7-11 Colors. Below is the translated color guide for the 7-11 Gundam.

I remember that you couldn't go a block in Japan without running past a convenience store. Ok ok, maybe that's exaggeration on my part, but I was just trying to point out that there were a lot of them. Very convenient too since you could get a whole
bento box meal
that was affordably priced by Japan's standards. Saved me too whenever I was in a business trip from having to look for a place to eat and pay a fortune. The tip my friend gave me was to never forget to ask for the chopsticks (hashi in Japanese) when you are paying for your meal since it usually doesn't come with the plastic box. The correct phrase would be "hashi onegaishimasu" (chopsticks please). There weren't that many 7-11's near my dorm however, it was more of the Mini-Stop franchise that was present.
Scans of the color guide were taken from
Dalong
.