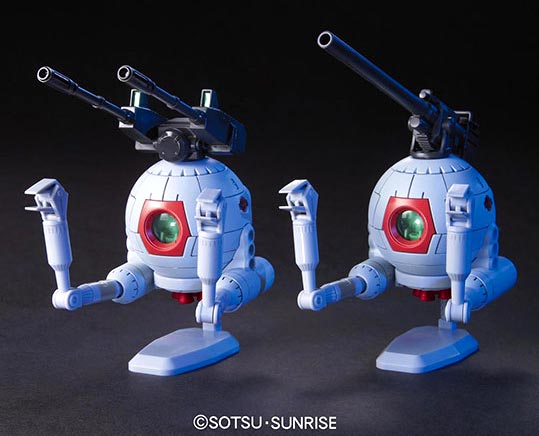 The "cute" RB-79 Ball from Gundam Universal Century. My first impression of this was that they were rather flimsy, but when I saw them in action at Gundam MS IGLOO I was impressed. Chiefly because of the firepower they carry despite the small frame. The RB-79 Ball even merited its own Gundam Evolve anime short, must be a measure stick for its popularity with the fans.
In MS IGLOO they were displayed as working in a pack and using their numbers and speed to overwhelm an opponent. Their tactics kinda takes a page from Sun Tzu's Art of War, where if you are small you should rely on guerilla tactics in order to defeat your opponent.
This High Grade set is actually two Ball mobile suits for the price of one. The High Grade RB-79 Ball Twin Set is selling for
950 yen
at
Amiami
,
1300 yen
at
HobbyLink Japan
,
1040 yen
at
Hobby Search
.
Available at these Online Shops:
Related Products
Construction Manual and Color Guide for the HG RB-79 Ball Twin set was translated to English from the Japanese manual posted at
Dalong's Gunpla Review site
. Check out more translated Color Guides
here
.