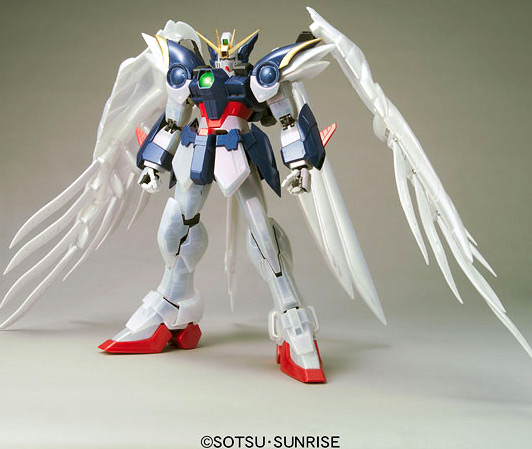 PG Wing Gundam Zero from Gundam Wing Anime. This is a different version from the originally released PG Wing Gundam Zero because of its pearl finish. I remember the first time I saw the regular version of this in 2001. I was in Japan at that time and was at the toy section of a department store, I forgot the name of that store already Maru- something.
Anyhoo, at that time I didn't have any interest at Gundam model kits yet. At the toy section I was busy looking at a
Bandai Grandizer DX Chougoukin toy
. When I got home to my dorm I remember going into a debate with some of my friends on whether I should buy it or not. All of them said that I should, I was hesitant because of the price.
Grandizer was a huge part of my childhood. In our dorm we had a senior guy who we all looked up to because he lived there longer than us and acted as our shepherd. He told me that I should buy it because in the end what is important is that it makes me happy and its only in Japan that I'll be able to have the opportunity to buy something like that.
At the toy shop I remember the 1/60 PG Wing Gundam Zero catching my eye because of the sheer size of the box, plus of course its very uncommon to see a robot having wings attached to it.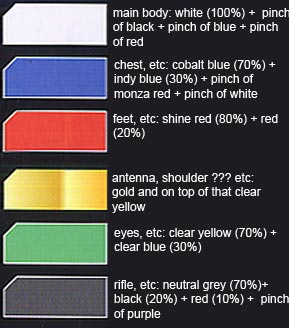 Color Guide for the 1/60 Perfect Grade Wing Gundam Custom Pearl Mirror Coat version was translated to English from the Japanese color guide
posted at Hobby Search
. And speaking of the color guide, I wonder why they include one with this kit?, considering that this is a special coated version, won't painting it nullify the coating? Oh well, please use at your own risk. If I had a kit like this, I'd probably apply just a top clear coat to make it shiny... but yeah, that's just me *snicker*
The 1/60 Perfect Grade Wing Gundam Zero Pearl Finish version is selling for
22,018 yen
at
Amiami
,
30,000 yen
at
HobbyLink Japan
,
24,000 yen
at Hobby Search,
$$$
at Amazon 3rd party sellers.
Oh, and in the end, I didn't buy the DX Grandizer Chougoukin... I have this practice of waiting a month before buying anything expensive... if after a month I still have the urge to possess it, then I will go buy it. Well after that month I lost the urge.