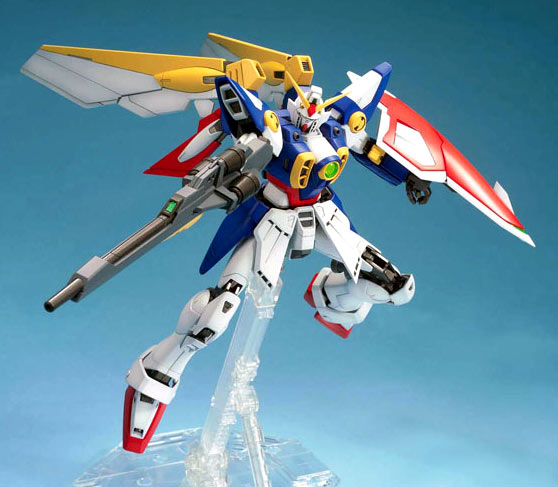 Hero Yui's XXXG-01W Wing Gundam from the Gundam Wing anime series. Recently released this year as a Master Grade kit by Bandai. This seems to be quite a popular kit as I've seen it back ordered already at some online shops. The Wing Gundam is one of the 4 Gundams sent to earth by the space colonies. It is unique with its ability to transform to "Bird" mode enabling it enhanced flight capabilities.
Haven't gotten around to finish watching the Gundam Wing series that I recently had in my possession. I watched the first few episodes and my initial judgement of Hero Yui is that he has an enormous chip off his shoulder. But I really shouldn't be passing judgement right now on the series because of the depth of my exposure to it, which is quite shallow right now.
The Master Grade XXXG-01W Wing Gundam is selling for
2930 yen
at Amiami,
4000 yen
at Hobby Link Japan,
2800 yen
at HWJapan.
Color Guide and Construction Manual was translated to English from the original Japanese manual posted at
Dalong's Gunpla Review site
. For the meaning of the symbols found in the manual, kindly refer to this
old post
.











Available at these Online Shops:
Related Products