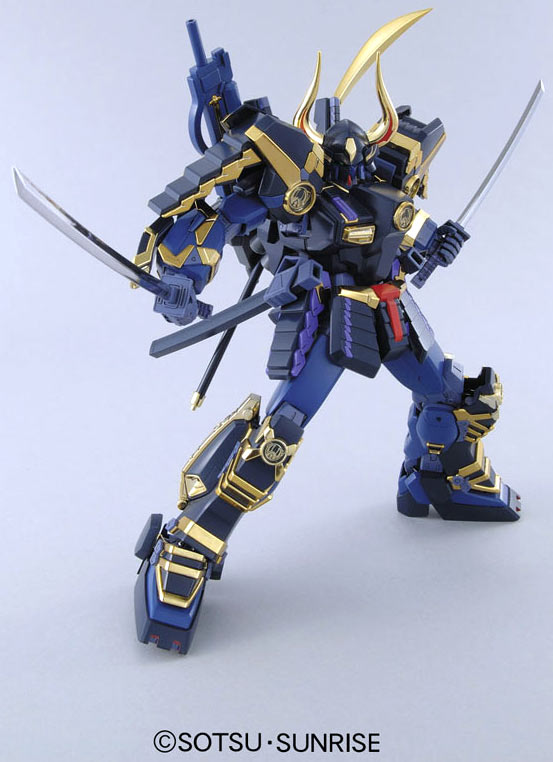 Just saw this posted at
Dalong's site
, first instance of a MG Musha Mk-2 wild on the web, woohoo! Made me realize that its May already because that's the time that this was scheduled to be released. After seeing the parts and manual up close I can't help but think how difficult it would be for me to subject this to a weathering procedure (Not that I have tried to weather a kit before), because this kit just screams majestic and elegant to me whenever I see it. And along with that is the thought that Katana's are cool no matter where you adorn it *snicker*
Aside from the beam rifle (shoryu maru) the beautiful MG Musha Gundam Mk-2 is armed with a naginata (senkou maru) and 2 long swords (kotetsu maru). Am no expert in kanji but the kotetsu maru literally translates to perfect tiger steel, senkou maru to perfect flash/glint, while shoryu literally means perfect ascending dragon.
Correct me if I'm wrong, but it seems like the model that Dalong got was for the Asian version released by Bandai Asia because it comes with the free "Japanese Traditional Pattern Motif Sticker". Read more about it
here
and
here
.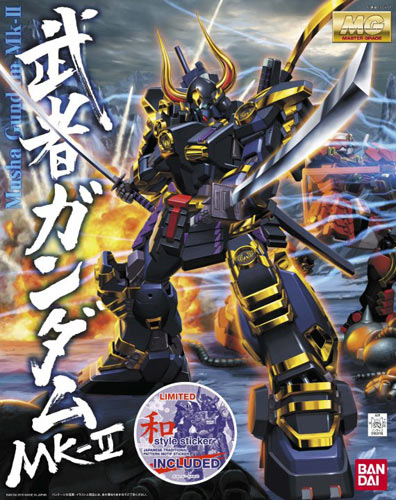 The MG Musha Gundam Mk-2 is available at
Amiami
for
4380 yen
,
6000 yen
at
Hobby Link Japan
.
4200 yen
at
HWJapan
. 3rd party sellers at Amazon are selling it for
$$$$
.
But hey if you are after the free stickers I'd suggest purchasing from a store supplied by Bandai Asia (and not Bandai Japan) because according to the BAKUC facebook page this offer is unique only to kits distributed by Bandai Asia.
Available at these Online Shops:
Related Products
Construction Manual and Color Guide for the MG Musha Gundam Mk-2 was translated to English from the Japanese manual posted at
Dalong
. For the meaning of the symbols found in the manual of the Musha Gundam Mk-2, kindly check out this
previous post
.