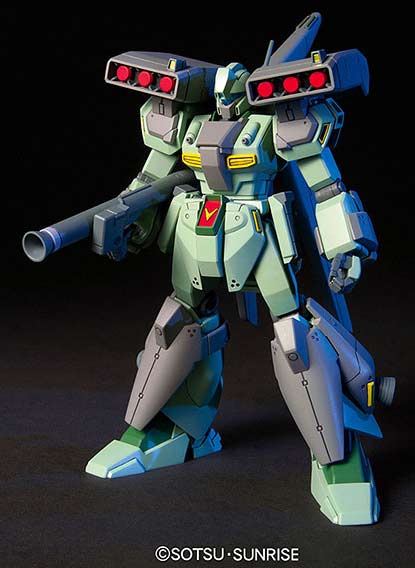 The RGM-89S Stark Jegan of Londo Bell that was seen in the opening sequence of Gundam Unicorn OVA. Based from my understanding of the literature found on the Stark Jegan, its supposed to act as a midrange support unit. Meaning that its not really supposed to mix it up but more on to provide fire support for an attacking force.
I guess this kinda explains the way it was acting in the Gundam Unicorn opening sequence when it was attacking
Marida Cruz in her Kshatriya
, wherein it broke off from the main force for what looked like a flanking position attack. Then again, maybe the writers of Episode 1 just wanted the Jegan to move that way so that its being blown up by the Kshatriya would look more epic *snicker*
The 1/144 HGUC Stark Jegan is selling for
2000 yen
at
Hobby Link Japan
,
1444 yen
at
Amiami
,
2000 yen
at
Hobby Search
,
1540 yen
at
HWJapan
.
Available at these Online Shops:
Related Products
Translated Color Guide for the Stark Jegan can be found
here
. Construction Manual was translated to English from the Japanese manual posted at
Dalong
.