The first time I saw the price of the companion LED unit for the
PG RX-0 Unicorn Gundam
I thought
Bandai
had gone insane. Well I still think its a bit too pricey but I guess economies of scale can't come to bear because the
Perfect Grade
line caters to a niche market of hobbyists so the price of it can't really come down.
Anyway, this isn't your average garden variety LED lighting unit because of its capability to light the head separately from the body. Then there's the dimming effect during this transition that also makes it unique. If you are handy with a solder and looking up electrical diagrams then I believe you can build your own, but if not then this is the kit for you.
Construction Manual
for the PG RX-0 Unicorn Gundam LED Unit was translated to English from the Japanese Manual posted at
Dalong's Gunpla & Model Kit Review site
.
Instruction Manual
 DOWNLOAD MANUAL 
Available at these Online Shops:
(#Ads)
Similar Gundam Unicorn / Banshee
Related Color Sets, Add-ons & Reference Materials
(#Ads)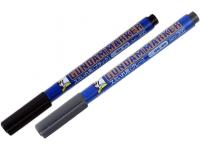 Related Products