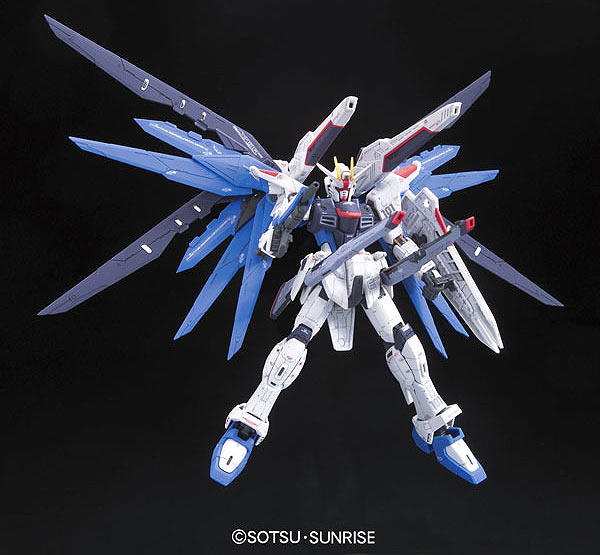 Kira Yamato's Freedom Gundam was released this month as a 1/144 Real Grade kit by
Bandai
. Freedom Gundam came out in the latter part of
Gundam Seed
and at the beginning episodes of Gundam Seed Destiny. It differs from most of the mobile suits in its era by the presence of a nuclear reactor in it's frame allowing it to function indefinitely. It is notably armed with Rail Guns and Plasma Beam Cannons sticking out from its waist and from its wings. The Freedom Gundam was suceeded by the
Strike Freedom Gundam
in the Gundam Seed Destiny anime.
It has to be pointed out that the Freedom Gundam was developed by ZAFT and by the aide of Lacus Clyne (also from ZAFT) was stolen by both of them with the intention of stopping the war between the Earth Federation and ZAFT.
The 1/144 Real Grade ZGMF-X10A Freedom Gundam is selling for
$
at Amazon,
2000 yen
at
HobbyLink Japan
,
2125 yen
at
Hobby Search
Construction Manual & Color Guide
for the 1/144 RG Freedom Gundam was translated to English from the Japanese manual posted at
Dalong's Gunpla & Model Kit review site
. For the meaning of the symbols found in the Freedom Gundam's model kit manual, kindly refer to this
older post
.












Available at these Online Shops:
Related Products