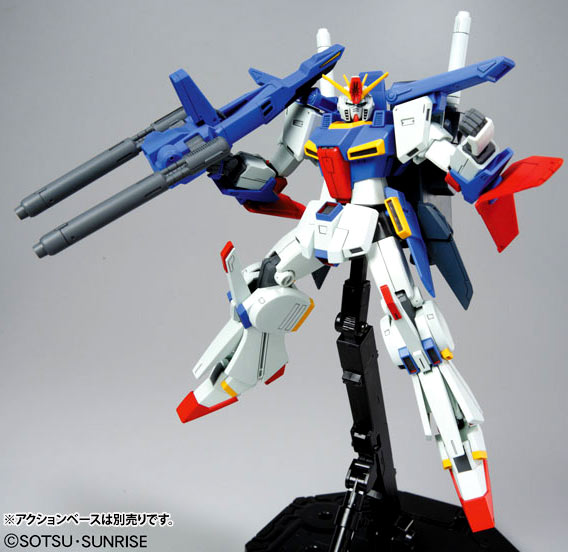 The titular mobile suit in the ZZ Gundam anime series gets released as a 1/144 scale High Grade Universal Century model kit by Bandai July this year. The MSZ-010 ΖΖ Gundam (Double Z Gundam) was flown by Judau Ashta for AEUG in the anime series.
This model kit can be broken down into its main parts: Core Top, Core Base and Core Fighter mode to allow it to be assembled as the G Fortress. According to the fictional site specs listed in the manual, the ZZ Gundam stands 19.86m tall, weighs 32.7 tons bare and 68.4 tons fully loaded. Its a powerful beast of a mobile suit, generating about 7340kw of power. It comes armes with a Hi-Mega Cannon, Double Vulcans, Beam Cannon/Hyper Beam Saber, Double Beam Rifle and Missile Launchers.
I haven't watched this ZZ Gundam yet, but based from reviews I've been reading from the web they say that the first few parts weren't that good. I guess I'll have to see that for myself whenever I get the chance to watch it. As for me, this is one of the coolest looking mobile suits. Especially its variants, like
the FAZZ
and the
Full Armor Double Zeta
.
The HGUC ZZ Gundam model kit is selling for
1680 yen
at
Amiami
,
2300 yen
at
HobbyLink Japan
,
1610 yen
at
HWJapan
.
Available at these Online Shops:
Related Products
Construction Manual and Color Guide for the HGUC ZZ Gundam was translated to English from
Dalong's model kit review site
.