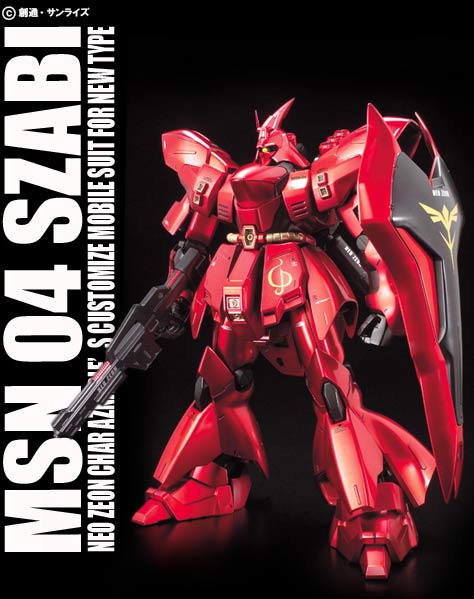 Master Grade MSN-04S Sazabi Metallic Coating Version
released by Bandai of the popular mobile suit flown by Char Aznable in the Char's Counterattack anime. Notable features of this mobile suit (aside from being big and towering over most mobile suits) is that it has the Funnel system of beam laser equipped drones that a NewType like Char can telepathically control and use to overwhelm an enemy from all sides of the compass.
Just finished watching Char's Counterattack and I have to say that I was saddened that Char had go back to being an antagonist. I kinda liked the way things were after Zeta Gundam, wherein Char Aznable was on the side of the "good guys" for once. But heck, that's just series creator, Yoshiyuki Tomino, for you. They don't call him "kill 'em all Tomino" for nothing. That's maybe one reason I'm happy that the Gundam Anime series allows itself to be spun off in alternate universes that Tomino has no hand in that will allow him kill off all the characters afterwards. What can I say? I'm a fan who always likes a happy ending. *snicker*

The MSN-04S Sazabi Metallic coating version is available at
Hobby Link Japan
and
Amiami
. Check out
shop reviews here
.
Color Guide and Construction Manual was translated to English from the Japanese manual posted at
Dalong
. For the
meaning of the symbols found in the construction manual
, check out this previous post
here
.