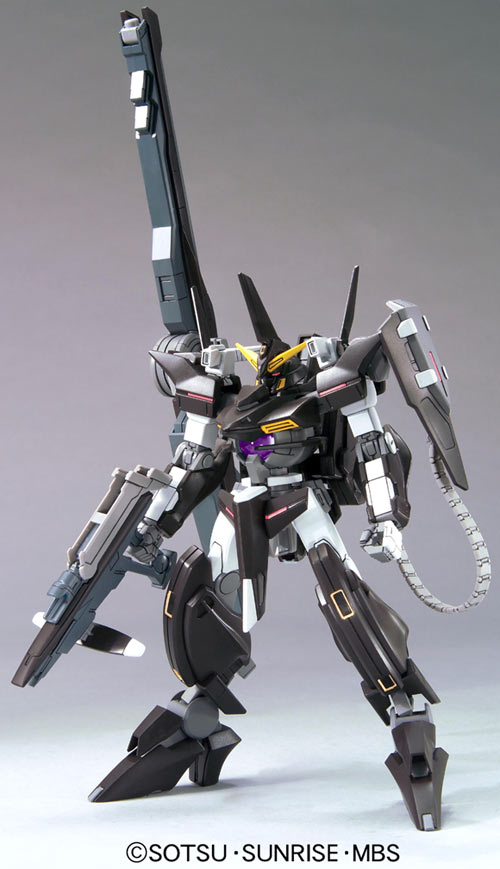 Johann Trinity's
Gundam Throne Eins
from the Gundam 00 Season 1 anime. The Gundam Throne Eins doubles as a long range bombardment unit for the Thrones. The Eins has a GN Mega Launcher that offers an even longer range-high powered attack but has to rely on the power supplied by another Gundam Throne in order to accomplish this. The Gundam Thrones differ from the main Gundams of Celestial Being because they are powered up by Pseudo GN drives.
The Gundam Thrones were developed in secret by another faction of Celestial Being in order to pursue a parallel tract of the main group. This was world wide "intervention" in order to implement
Aeolia Schenberg's
plan for the advancement of the Human Race.
Johann acts as the leader of his siblings who pilot the other Gundam Thrones. He also seems to be the most level headed member of the group by a mile because
Nena
and
Michael
are just plain psychotic.
Would have been nice if Bandai included the Gundam Thrones in their 1/100 non-grade line for their Gundam 00 series of model kits.
The HG Gundam Throne Eins costs
1173 yen
at
Amiami
,
1600 yen
at
HobbyLink Japan
,
1120 yen
at
HWJapan
Available at these Online Shops:
Related Products
Color Guide and Construction Manual for the Gundam Throne Eins was translated to English from the Japanese manual posted at
Dalong
.