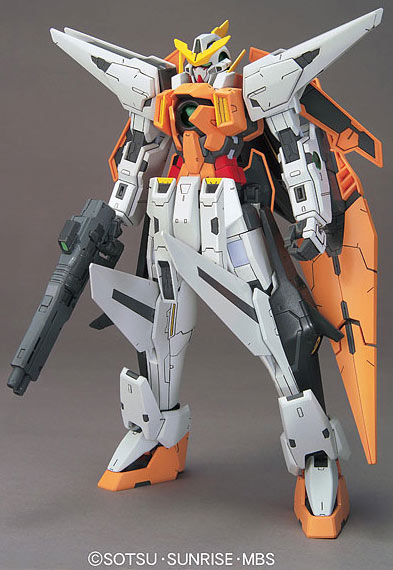 I
finished building already this beautiful kit
a while back, scared as heck to transform it so I keep it Gundam mode all the time *snicker*. The GN-003 Gundam Kyrios made its appearance in the first season of Gundam 00. It is the mobile armor/air attack specialist of Celestial Being having the capability to transform to airplane mode.
The Gundam Kyrios is piloted by Allelujah Haptism, he is a split personality, quantum brainwave capable, super soldier reject. His alter ego is Hallelujah Haptism, who is a cold blooded ruthless killer that usually surfaces from the recesses of his psyche whenever Allelujah is under extreme duress. Quite the opposite really of the soft spoken and humane Allelujah. Just one of the reasons for me why Gundam 00 was such a great anime, because of the complexity of the characters in the series.
Available at these Online Shops:
Related Products
The 1/100 Gundam Kyrios is selling for
$$$$
at Amazon,
1904 yen
at
Amiami
,
2600 yen
at
Hobby Link Japan
,
1820 yen
at
HWJapan
.