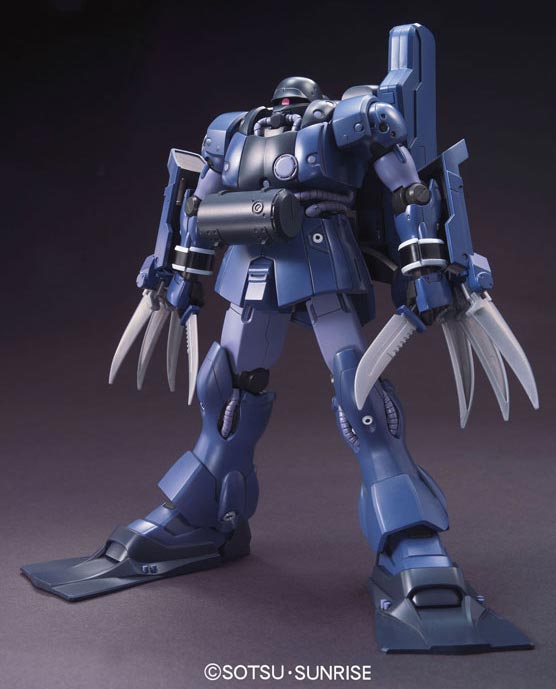 Seen in Episode 4 of the Gundam Unicorn OVA was the Zee Zulu. This was also released last month by
Bandai
as a
1/144 High Grade model kit
. This post would not be complete without me mentioning that
Gundam Unicorn Episode 4
had spectacular fight scenes in them depicting this mobile suit in action.
This Zeon aquatic mobile suit comes armed with a beam machine gun (in a water proof case), heat knife and iron nails at the hands. For aquatic mobility it comes equipped with some swimming fins for its feet and a ballast tank at its waist. Before seeing this manual I used to think that the Zee Zulus were built in the line of the
Z'Gok's
and other aquatic mecha of Zeon. But now I see that its more like an underwater Frogman, where in its aquatic capabilities are add-ons and not specifically built in. This way it can fully function on land and not be hindered by its underwater capabilities.
The 1/144 AMS-129M Zee Zulu is selling for
$
at Amazon,
1600 yen
at
Amiami
,
1760 yen
at
HobbyLink Japan
,
1870 yen
at
Hobby Search
.
Available at these Online Shops:
Related Products
Color Guide & Construction Manual
for the 1/144 HG Zee Zulu was translated to English from the Japanese manual posted at
Dalong's Gunpla & Model Kit review site
.