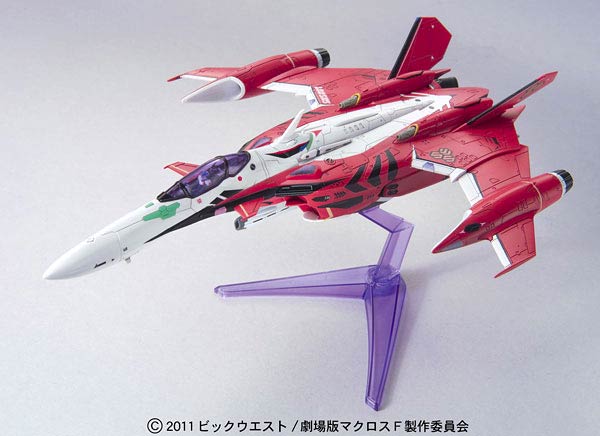 1/100 YF-29 Durandal Valkyrie Alto Custom by Bandai that was featured in the recently shown Macross Frontier: Sayonara Tsubasa movie. Macross Frontier protagonist, Alto Saotome, flies this in the movie. This model kit is in fighter mode only so you can't hope to transform it into its Gerwalk and Battroid forms.
Macross Frontier Creator, Shoji Kawamori, likes to pay homage to past Macross Series by including a likeness of them in various scenes, characters or mecha. I know that the swept forward form of the wing pays homage to the
YF-19 of Isamu Dyson
from Macross Plus. I'm not sure however where the color scheme for the YF-29 comes from, it must be a new thing then?
There's also a
1/60 DX toy version of the YF-29 Durandal
that scheduled to come out next month, so looking forward to that.
The 1/100 YF-29 Durandal Valkyrie Alto Custom is selling for
875 yen
at
Amiami
,
960 yen
at
HobbyLink Japan
,
1020 yen
at
Hobby Search
Available at these Online Shops:
Related Products
Color Guide & Manual for the 1/110 YF-29 Durandal Valkyrie Alto Custom was translated to English from the Japanese manual posted at
Dalong's Gunpla Review site
. For the meaning of the symbols found in the model kit's manual, kindly refer to this
older post
.