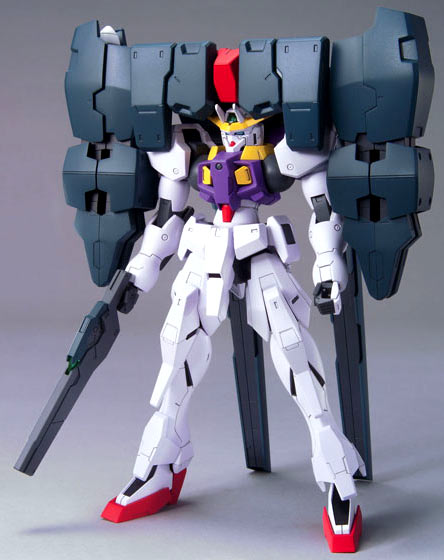 The
CB-002 Raphael Gundam
of Tiera Erde from the Gundam 00 Awakening of the TrailBlazer movie. Not sure if this mobile suit supersedes his previous mobile suits, the
Virtue
and the
Seravee
because its designation is different. Previous suits of his had "GN" on its designation, this one begins with a "CB." Similar to the designation given to
Ribbon's Gundam
.
This suit also doesn't seem to have a mobile suit within a mobile suit, like the Nadleeh hidden in the Virtue and the Seraphim hidden in the Seravee. This makes it all the more interesting to watch the Gundam 00 Movie because of this development. At the end of Gundam 00 Season 2, Tiera Erde was shot by Ribbons Almark, but he was able to live on as a part of the giant computer of Celestial Being known as Veda. In the movie we see that he was given physical form once again.
The High Grade 1/144 CB-002 Raphael Gundam is selling for
1450 yen
at
Amiami
,
2000 yen
at
HobbyLink Japan
,
1600 yen
at
Hobby Search
.
Available at these Online Shops:
Related Products
Construction Manual and Color Guide for the HG CB-002 Raphael Gundam was translated to English from the Japanese Manual posted at
Dalong's Gunpla Review site
. Comprehensive review of this model kit can also be found at
Dalong's
.