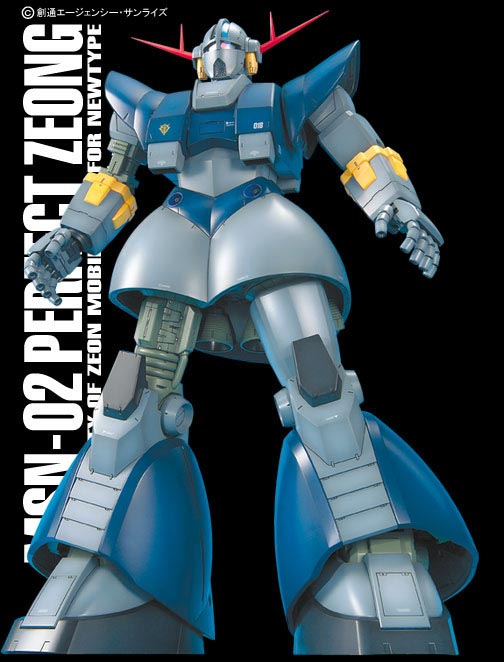 MSN-02 Perfect Zeong
from Mobile Suit Variations made into a Master Grade kit by Bandai in 1/100 scale. This is one behemoth of a mobile suit standing as big as a
Perfect Grade
kit. The original MSN-02 Zeong was piloted by Char Aznable in Mobile Suit Gundam:0079. That version lacked any legs because according to the story it was never completed. But the absence of legs didn't make it any less fearsome or combat ready.
I guess in keeping with the original design, they decided to keep original arm lengths of the Zeong when they made the Perfect Zeong version. Meaning that the arms don't reach down to the thighs like a properly proportioned humanoid design should be *snicker* But then again, that's just my impression, that the arms are too short... hehehe
Because of its size, the MG Perfect Zeong isn't cheap. Its selling for
10000 yen
at
HobbyLink Japan
,
8000 yen
at
Hobby Search
. One other thing you should keep aware of when buying this is the cost of shipping, because of the sheer size of it.
Color Guide for the MG MSN-02 Perfect Zeong was translated to English from the Japanese color guide posted at
Hobby Search
.