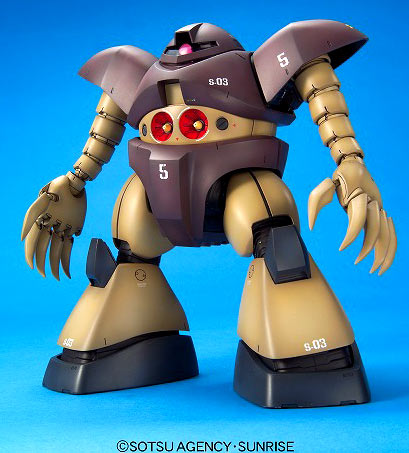 MSM-03 Gogg from the very first Mobile Suit Gundam:0079 anime series. This unit was an amphibious type mobile suit of the Zeon Forces designed to fight underwater. According to the manual, this unit is packed with a mega particle beam gun, torpedoes and claws for melee combat.
With the wide surfaces in the legs, torso and shoulders, this looks like a great kit where one can let his creativity run loose. Stuff that comes to mind are detailing it up by scribing panel lines and adding rivets. Or adding plastic plates for outer protrusion details. One could even try cutting up chunks from these places then adding mesh wire in its place.... but yeah, that's just me *snicker*
The Master Grade MSM-03 Gogg is selling for
2568 yen
at
Amiami
,
3500 yen
at
HobbyLink Japan
,
2800 yen
at Hobby Search,
2450 yen
at
HWJapan
.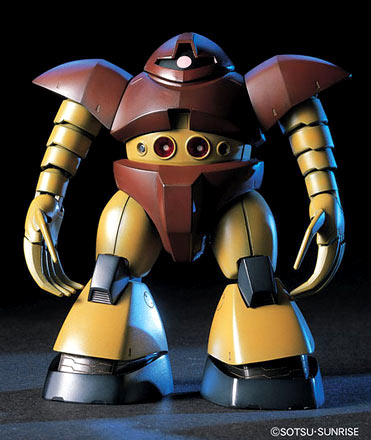 The High Grade MSM-03 Gogg is selling for
585 yen
at Amiami,
800 yen
at HobbyLink Japan,
640 yen
at Hobby Search,
560 yen
at HWJapan.
Color Guide for the
HGUC Gogg
and
MG Gogg
was translated to English from the Japanese Color Guide posted at Hobby Search. A great review made by Dalong for the
MG Gogg
and the
HGUC
.
Color Guide for the Master Grade Gogg: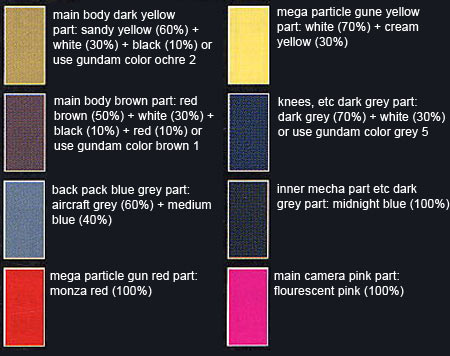 Color Guide for the High Grade UC Gogg: