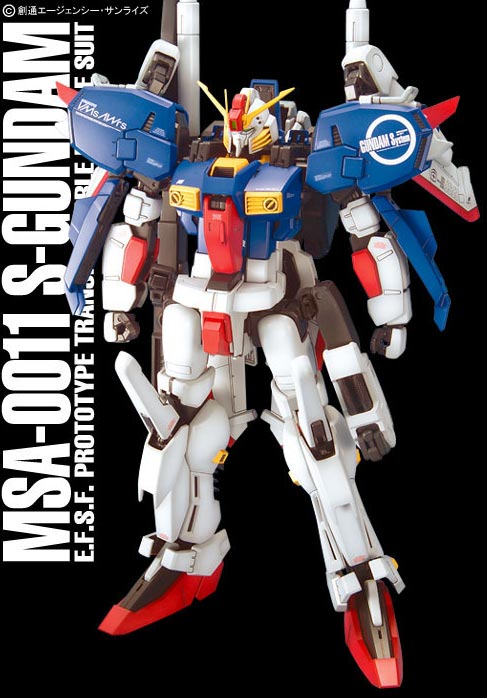 Master Grade
MSA-0011 S-Gundam
from Gundam Sentinel. I am truly impressed with the design of this Gundam along with the
Ex-S Gundam
. Not surprising given that renowned mecha designer Katoki Hajime was responsible for it.
Its definitely a unique rendition of the Gundam Mobile suit. What really hits you first is the unique shoulder design that is bulky and projects the "units" masculinity. This is definitely on my list of Gunpla's I'd like to have.
The S-Gundam has Vulcan machine guns at the head, beam cannon for its backpack, side waist beam cannons, beam saber and a smart gun as part of its offensive arsenal.
The MSA-0011 S-Gundam doesn't come cheap though, as compared by its price from the regular Master Grade model kits. The MSA-0011 S-Gundam is selling for
6000 yen
at
HobbyLink Japan
,
4800 yen
at Hobby Search,
4200 yen
at
HWJapan
,
$$$
at Amazon 3rd party sellers.
Available at these Online Shops:
Related Products
Color Guide was translated to English from the Japanese Color Guide posted at
Hobby Search
. Comprehensive review of this model kit can be found at
Dalong's Gunpla review site
.