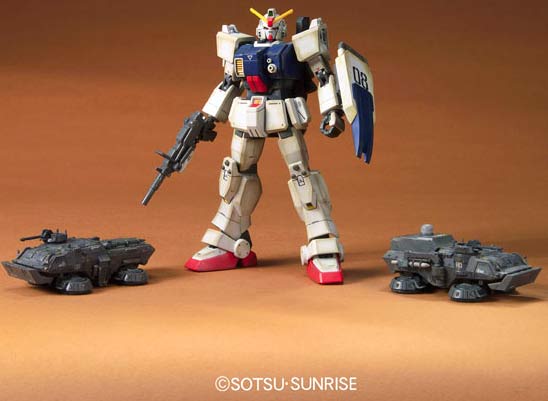 A 1/144 High Grade model kit set consisting of the mecha from the Mobile Suit Gundam: The 08th MS Team anime OVA. Namely the RX-79(G) and some Hover trucks. I finished watching the 08th MS Team recently. I started it last year then only got past the first episode. I think its because I found it slow starting that got me bored with. Despite that, I'd say that it was indeed a good anime series in my book, not spectacular but good.
I like how the story expanded the UC universe by adding another story arc. Although not directly affecting Gundam 0079 it does take its que from the events happening in that storyline. Quite unique really to tell a story of a ground war going on in South East Asia. Also what was also interesting was the concept of using sonar to detect enemy forces instead of conventional radar systems. Sonar used was of the passive form, wherein the operator listens in on a seat of earphones for the sound of the enemy. Passive sonar enables you to detect the enemy without giving away their position.
One thing I liked about the experience of watching it was the chance to listen to the voice of
Keiji Fujiwara
during his early years. In this anime, early in his career, he plays Eledore Massis, the young and funny driver of one of the support hover trucks of the team. I've always admired the gruff but laid back wisened voice that Keiji Fujiwara projects on the characters he plays. It gives the feeling of a wisened Sempai/Veteran similar to Roy Fokker and Ozma Lee from Macross. Most popular voice works of him are Holland from Eureka Seven, Ali Al-Saachez in Gundam 00 and Souya Togo from Sky Girls.
The HGUC RX-79(G) Gundam The Ground War Set is selling for
1610 yen
at
Amiami
,
2200 yen
at
HobbyLink Japan
Available at these Online Shops:
Related Products
HGUC RX-79(G) Gundam The Ground War Set Construction Manual and Color Guide was translated from the Japanese Manual posted at
Dalong's mecha review site
.