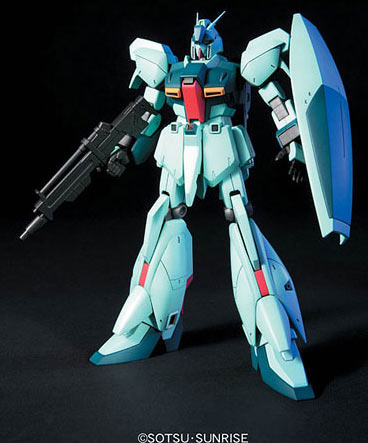 The RGZ-91 Re-GZ of Amuro Ray as seen in the opening fight sequence of Char's Counterattack between Londo Bell and Char's Neo Zeon forces. This was the primary mobile suit of Amuro Ray as a member of Londo Bell while waiting for the
Nu Gundam
to be completed by Anaheim Electronics. After Amuro Ray transitioned to the Nu Gundam, the RGZ-91 Re-Gz was assigned to Londo Bell member, Kayra Su.
According to the literature found in the manual, the RGZ-91 Re-Gz stands 20.5 m tall. Weight 24.7 tons bare and 55.2 tons loaded. Its generator produces 2550kw of energy and it is equipped with a head vulcan gun, grenade launcher, beam saber, beam rifle, mega beam cannon and a beam cannon.
The HGUC RGZ-91 Re-GZ of Amuro Ray is selling for
2051 yen
at
Amiami
,
1959 yen
at
HWJapan
.
Available at these Online Shops:
Related Products
Construction Manual and Color Guide was translated to English from the Japanese manual posted at
Dalong's Model Kit review site
.