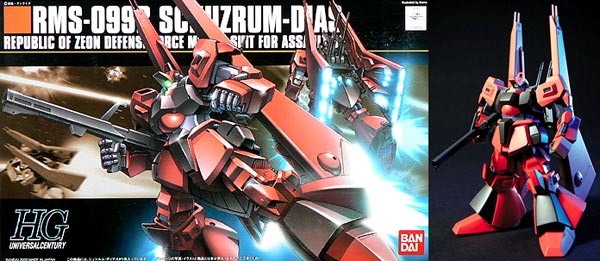 RMS-099B Schuzrum-Dias from the ZZ Gundam Anime series. The Schuzrum-Dias was based off the Rick Dias of AEUG with modifications added to enhance its performance. The most obvious of which is the presence of the large back boosters over the previous Rick Dias. One other thing different about this is that it is being flown by the Neo Zeon forces of Haman Karn instead of being on the side of the "good" guys.
The Rick Dias flown by Char Aznable as a member of AEUG in Zeta Gundam was
my very first MG kit
, hence it really has a special place in my collection. Like the MG kit, the HGUC Schuzrum-Dias can be assembled as either a commander type or a normal type. The difference being in the red covering of the mono-eye.
Construction Manual and Color Guide was translated from the manual posted at
Dalong
.
Available at these Online Shops:
Related Products
1245 yen
at Amiami,
1700 yen
at Hobby Link Japan,
1190 yen
at HWJapan.