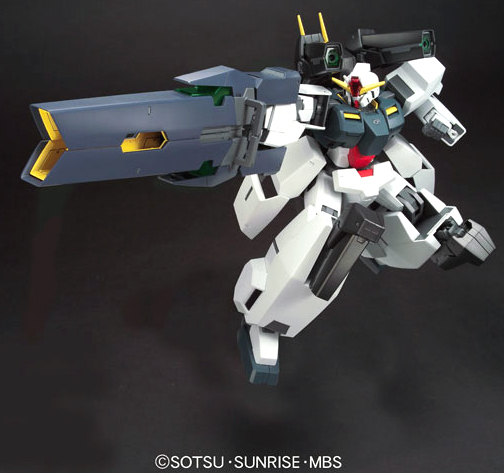 The
GN-008 Gundam Seravee
made its appearance in the first episode of Gundam 00 Season 2. Piloted by Tiera Erde it is the heavy weapons specialist of Celestial Being. Aside from packing a whallop with the myriad of GN Bazooka configurations it can do, it is the only Gundam equipped with a GN Shield to protect it from attack.
The Seravee also supercedes the
GN-005 Gundam Virtue
that was also piloted by Tiera in Gundam 00 Season 1. Like the Gundam Virtue, the Gundam Seravee also plays host to another Gundam. For the Virtue it was the
Gundam Nadleeh
, for the Seravee it is the super secrative
GN-009 Gundam Seraphim
.
The Gundam Seravee costs
$$$
at Amazon,
3420 yen
at
Hobby Search
,
2520 yen
at
HWJapan
. At
Amiami
it costs
2637 yen
. At
Hobby Link Japan
it costs
3600 yen
.
Available at these Online Shops:
Related Products
Construction Manual of GN-008 Gundam Seravee was translated to English from the Japanese manual posted at
Dalong
. Color Guide for the Gundam Seravee can be found
here
. More
translated Color Guides & Construction Manuals
can be found
here
.
In the translated manual there is a line that says
"the inner side of the clear parts is the one that doesn't stick"
, Looking at it now, it seems that the better translation for this is: "the inner side is where the clear parts aren't attached."