Can't believe that this kit is almost 10 years old, the
1/144 High Grade
Hi-Zack (Earth Federation Force ver) by
Bandai
. This mecha came out of the
Zeta Gundam
franchise, based on the Zaku but used by the Earth Federation Force.
As a kid you'd probably be confused because you saw Zaku's and GM's facing off in the first series and now here they are playing well with each other. But then again you'd be confused too why the Good Guy Earth Government is now known as the Bad Guy. Pretty heavy stuff I think for a kid.
For the meaning of the symbols found in the model kit's manual, kindly refer to
this post
.
Instruction Manual
 DOWNLOAD MANUAL 
Available at these Online Shops:
(#Ads)
Similar Hi-Zack
Related Color Sets, Add-ons & Reference Materials
(#Ads)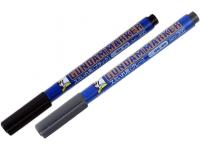 Related Products
* Check/Uncheck the boxes to make finding equivalent colors easier

Uncheck ALL
AK INTERACTIVE AK 3rd Gen Acrylics
AK INTERACTIVE AK Acrylics
AK INTERACTIVE AK Real Color
ALCLAD II ALCLAD II
AMMO by Mig Jimenez Ammo Acrylics
Acrylicos Vallejo Vallejo Game Air
Acrylicos Vallejo Vallejo Game Color
Acrylicos Vallejo Vallejo Liquid Gold
Acrylicos Vallejo Vallejo Mecha Color
Acrylicos Vallejo Vallejo Metal Color
Acrylicos Vallejo Vallejo Model Air
Acrylicos Vallejo Vallejo Model Color
Acrylicos Vallejo Vallejo Panzer Aces
Citadel Colour Citadel
E7 Paints E7 Paints
GSI Creos Corp Acrysion
GSI Creos Corp Aqueous Hobby Color
GSI Creos Corp Gundam Color
GSI Creos Corp Mr. Color
GSI Creos Corp Mr. Color Clear Color GX
GSI Creos Corp Mr. Color GX
GSI Creos Corp Mr. Color Super Metallic
GSI Creos Corp Mr. Color Super Metallic 2
GSI Creos Corp Mr. Crystal Color
GSI Creos Corp Mr. Metal Color
GSI Creos Corp Mr. Metallic Color GX
GSI Creos Corp Primary Color Pigments for Mr. Color
GSI Creos Gundam Color Spray
GSI Creos Gundam Marker
GSI Creos Mr. Color Spray
GSI Creos Mr. Hobby Primer Surfacer
GSI Creos Mr. Hobby Top Coat
Gaia Notes GAIA Enamel Color
Gaia Notes Gaia Color
HATAKA HOBBY Hataka
Humbrol - Hornby Hobbies Humbrol Acrylic
Humbrol of Hornby Hobbies Humbrol Enamel
Italeri Italeri
Lifecolor Lifecolor
Mission Models Mission Models
Revell of Germany Revell Aqua Color Acrylic
Revell of Germany Revell Email Enamel
Tamiya, Inc Tamiya Color Acrylic Paint
Tamiya, Inc Tamiya Color Acrylic Paints (Flat)
Tamiya, Inc Tamiya Color Spray For Aircraft
Tamiya, Inc Tamiya Color Spray Paints
Tamiya, Inc Tamiya Enamel
Tamiya, Inc Tamiya Lacquer Paint
Tamiya, Inc Tamiya Spray
Tamiya, Inc Tamiya Top Coat/Primer/Surfacer
Testors of Rust-Oleum Group Testors Model Master Acrylic
Testors of Rust-Oleum Group Testors Model Master Enamel
The Scale Modellers Supply SMS
Xtracolor Xtracolor