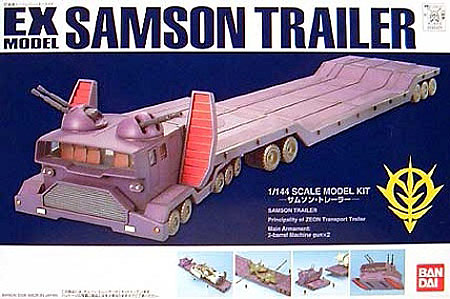 Released in May of 2006 by
Bandai
was the 1/144 EX model kit of the Samson Trailer. The Samson is a maintenance truck used for carrying Mobile Suit's when they are being serviced. Like the character of Samson from the Bible's Old Testament, this trailer has to be pretty strong to be able to move a Mobile Suit. Since its 1/144 in scale, a
High Grade
or
Real Grade
mobile suit kit can easily fit on its trailer bed.
I guess the Samson Trailer serves the purpose of modern day tank transporters that the military uses. Which are to reduce wear on the tank's parts (truck parts are cheaper compared to tank parts), reduce fuel consumption as well as damage to civilian roads (since tank treads tend to damage concrete roads)
The 1/144 EX Samson Trailer is selling for
$
at Amazon,
1500 yen
at
HobbyLink Japan
,
2550 yen
at
Hobby Search
Available at these Online Shops:
Related Products
Construction Manual & Color Guide
was translated to English from the Japanese manual posted at
Dalong's Gunpla & Model Kit Review site
.