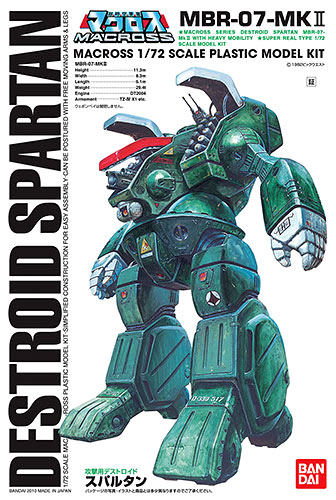 1/72 Destroid Spartan originally made by Imai in the 80's, then the molds were bought by Bandai and the kits were republished last year. Spartans formed part of the non flying mecha contingent of the SDF Macross from the anime series of the same name.
Probably the most famous pilot of the Destroid Spartan was series protagonist, Hikaru Ichijo, himself. He donned the suit temporarily to take care of some troublesome Zentradi who were having a hard time adjusting to civilian life during the latter part of the series.
Insert customary *I wish
Yamato Toys
* would make a 1/60 version of this mecha ... hehehe... seriously though, I wish they did.
The 1/72 Destroid Spartan by Bandai/Imai is selling for
$$$
at Amazon,
1450 yen
at
Amiami
,
1600 yen
at
HobbyLink Japan
,
1700 yen
at
Hobby Search
Available at these Online Shops:
Related Products
Color Guide and Manual for the 1/72 Destroid Spartan by Bandai/Imai was translated to English from the Japanese manual posted at
Hobby Search