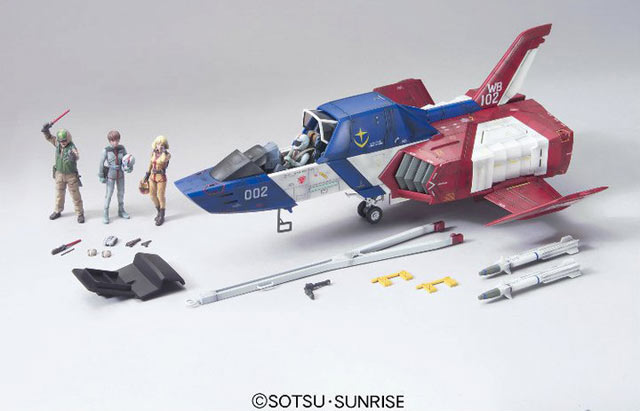 I was truly impressed with this kit the moment that I saw it. Highly detailed rendition of the iconic Core Fighter from the first ever Mobile Suit Gundam. Include in the 1/35 kit is a figure of Amuro Ray, Sayla Mass and a token Deck Crew *snicker* The Core Fighter also transforms to Core Block mode which fits in the chest part of the Gundam.
I can't help but think that the Core Fighter is how the Mobile Suit Gundam establishes its roots to the Giant Robot Series that preceded it before blazing a trail to the Real Robot Series that it anchored.
I remember in almost all of the Giant Robot Series of the 70's there was always a personal craft that the hero used in order to "connect" with the robot. From a logical perspective it doesn't make practical sense since it could be considered as a time waster. But hey!, this is entertainment and the act of boarding the robot via another craft added to the dramatic effect...blah blah blah... old man rambling *snicker*
The 1/35 U.C. Hard Graph FF-X7 Core Fighter is selling for
$$$
at Amazon,
3280 yen
at
Amiami
,
3690 yen
at
HobbyLink Japan
,
3825 yen
at
Hobby Search
Available at these Online Shops:
Related Products
Color Guide and Construction Manual for the 1/35 FF-X7 Core Fighter was translated to English from the Japanese manual posted at
Dalong's Gunpla Review Site
and
Hobby Search
.