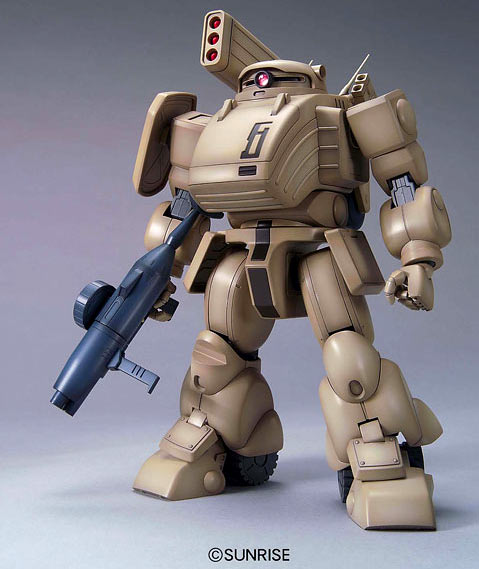 B-ATM-03 Fatty Ground Custom from Armored Trooper Votoms made into a 1/20 model kit by Bandai. In the series the Fatty Ground Custom belonged to the Balarant Union. Although this mobile suit belonged to the other side, to me this is one cool looking mobile suit. I think it has to be because of the bulky frame and sandy color scheme which helps add to the realism of the mecha.
I haven't watched any of the animes in the Armored Trooper Votoms franchise but after seeing this I'm looking forward to watching this. Based from what I've read on online, this came out in the era of the original Macross and Gundam and is said to have an interesting storyline.
In an engineering standpoint, I think the design of the mecha in Armored Trooper Votoms is a more accurate depiction of what the first generation mecha's would look like if ever humans come around to perfecting one. Because when you think about it, it would be impractical to have a building size mecha in your arsenal what with the cost and all. Not to mention, that it makes an easy target in the battlefield where you can concentrate all your fire on, if you are from the opposing side. But then again, that's just my opinion *snicker*
The 1/20 Armored Trooper Votoms B ATM-03 Fatty Ground Custom is selling for
3669 yen
at
Amiami
,
4000 yen
at
Hobby Search
,
5000 yen
at
HobbyLink Japan
Available at these Online Shops:
Related Products
Construction Manual and Color Guide for the 1/20 Votoms B ATM-03 Fatty Ground Custom was translated to English from the Japanese manual posted at
Dalong's Model Kit Review site
. For the meaning of the symbols found in the construction manual, kindly refer to this
older post
.