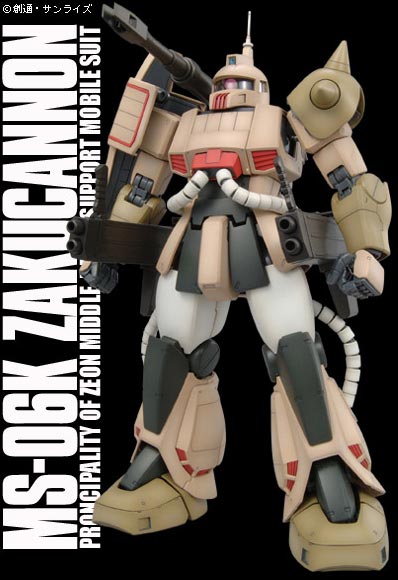 MS-06K Zakucannon
from Mobile Suit Variations that was made into a Master Grade kit by Bandai in 2008. The Zaku Cannon is a heavy weapons type. Aside from the usual fare of a Zaku Machine Gun and Zaku Bazooka, this mobile suit sports a shoulder cannon and a pair of "big guns" on its waist area.
There is also an option to assemble this as "rabbit type" with two antenna's on its head instead of one that make it look like a rabbit. Then along with that is a different "green" color scheme.
The MS-06K ZakuCannon is selling for
3298 yen
at
Amiami
,
3600 yen
at
HobbyLink Japan
,
3600 yen
at
Hobby Search
Available at these Online Shops:
Related Products
Construction Manual and Color Guide for the was translated to English from the Japanese manual posted at
Dalong's Model Kit Review site
. For the meaning of the symbols littered around the construction manual, kindly refer to this
older post
.