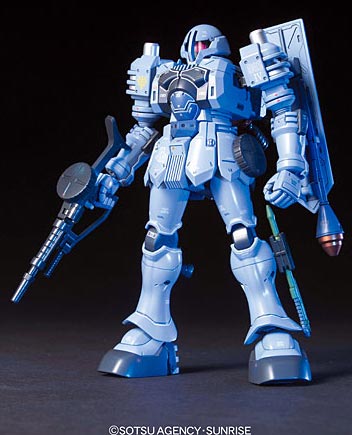 The EMS-10 Zudah from the MS IGLOO OVA of the Gundam Franchise. Saying that this mobile suit is a great mobile suit would be lying. In fact that was the premise of that episode of the MS IGLOO OVA where this mobile suit was featured.
In the episode, Zeon was touting in the media the Zudah to be the successor of the popular Zaku. It was implied that this mobile suit would be responsible for winning the war for them. Of course this was all propaganda as the the Earth Federation came out with their own media spiel exposing the fact that the Zaku and Zudah were evaluated the same time by Zeon. The Zudah lost because of its unreliability so the Zaku became the frontline mobile suit of Zeon.
I read before that there is a difference between spinning a story and publishing propaganda about it. In spinning a story, you talk more about the positive aspects of the subject rather than the negative and that it what you want to be highlighted in the minds of your audience. Propaganda however is manufacturing the story to the point of telling a lie.
I guess in this context, you could say that the Zudah being a good mobile suit is outright propaganda on the part of Zeon. But that episode on the Zudah at the MS IGLOO OVA is a definitely must watch, it would probably make you even want to buy this High Grade model kit after learning about the story of this rather tragic mobile suit.
The 1/144 High Grade EMS-10 Zudah is selling for
1025 yen
at
Amiami
,
1400 yen
at
HobbyLink Japan
,
979 yen
at
HWJapan
.
Available at these Online Shops:
Related Products
Construction Manual and Color Guide was translated to English from the Japanese manual posted at
Dalong's Gunpla review site
. Comprehensive review of this model kit can also be found at
Dalong's
.