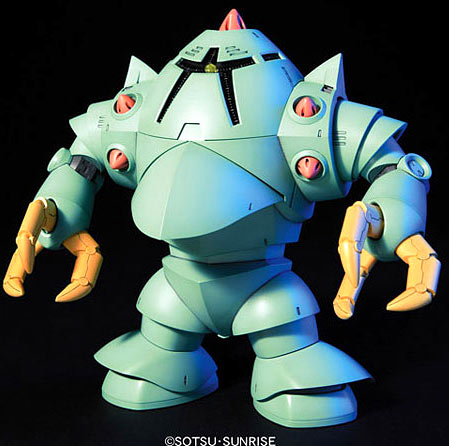 The Mass Production Amphibious Mobile Suit MSM-10 Zock from Gundam 0079. Definitely one of the strangest looking mobile suits in the arsenal of the Principality of Zeon. I'd like to ask the Zeon officer who signed the approval sheet for this what he was smoking at that time *snicker*
According to the fictional mecha specs included in the manual, the MSM-10 Zock stands 23.9 meters tall, weighs 167.6 tons bare and 229 tons fully loaded. Its generator produces about 3849 kw of power. Not surprising, with the weight of the mobile suit, you really need a lot of energy to power up this baby. The unit is armed with the Phonon Maser Cannon, Mega Particle Beam Guns and the Iron Nails (claws)
In my book this mobile suit is weird looking, but I believe that there is a gunpla modeller out there that could customize the heck out of this to make it one cool looking mobile suit. Yep, one of those Glass is Half-Full/Half-Empty-depending-how-you-see-it model kit. Makes me wonder too if HGUC Zock model kits are actually selling well?
The HGUC Zock is selling for
1832 yen
at
Amiami
,
2500 yen
at
HobbyLink Japan
,
1750 yen
at
HWJapan
.
Available at these Online Shops:
Related Products
Construction Manual and Color Guide for the HGUC MSM-10 Zock was translated to English from the Japanese manual posted at
Dalong's model kit and Gunpla review site
.