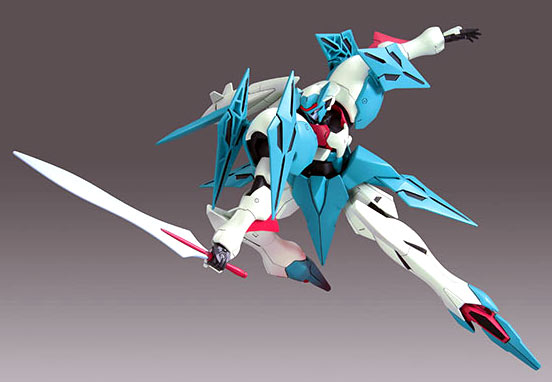 If you haven't seen Gundam 00 Season 2 yet, or finished watching it, I'd suggest you not continue reading this as you might not want to know who is the pilot of the GNZ-007 Gaddess.
The Gaddess is Anew Returner's mobile suit after she returned to the Innovators. It turns out that as the series progressed that she was an unknowing Innovator spy planted by the Innovators with the help of Wang Liu Mei who was playing both sides. Unknowing because she did not know that she was an Innovator when she was with Celestial Being and therefore developed an genuine bond and friendship with the crew of the Ptolemaios II. As a viewer, the name Anew Returner was a dead giveaway of her being an Innovator because the Innovators had such weird names, with the exception of course of Ribbons Almark.
Anew Returner is the genetic twin of Innovator Revive Revival. It was through this that the Innovators would always be one step ahead of Celestial Being and could easily determine where they were by Revive Revival contacting Anew Returner via Quantum Brainwaves. Anew was unaware of this and it seemed built in her that she would space out whenever Revive contacted her to determine their location. The link between them however had a range limit so Revive couldn't easily tell where they were unless it was close.
The HG GNZ-007 Gaddess is selling for
$$$$
at Amazon,
1171 yen
at
Amiami
,
1600 yen
at
Hobby Link Japan
,
1120 yen
at
HWJapan
.
Available at these Online Shops:
Related Products
Construction Manual and Color Guide for the GNZ-007 Gaddess was translated to English from the Japanese manual posted at
Dalong
.