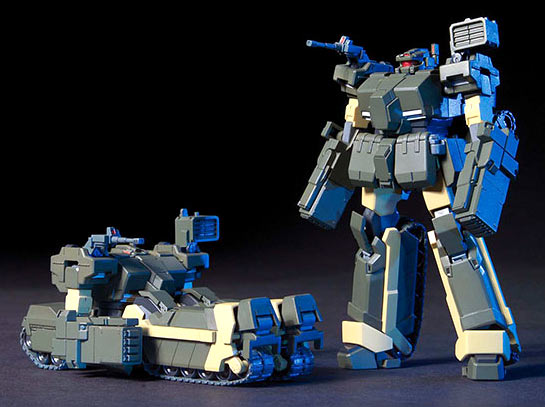 The
D-50C Loto from the Gundam Unicorn OVA
that is being released right now. This MS is basically a tank that transforms into an upright mobile suit. One key feature of this mobile suit is that it can carry a platoon of soldiers in it. It was seen in episode 1 of Gundam Unicorn disgorging a load of soldiers to storm an enemy
fortification
house.
Since I'm a military buff I know that tanks were born out of World War I. When the stalemate caused by trench warfare and the machine gun was broken by the presence of the mobile and impregnable tank. Come World War II, the Germans dominated the early campaigns with their use of the Blitzkrieg method of land warfare. Wherein tanks were supported by truck mounted infantry to form a rapid moving force coordinated by radios. Infantry helped remove the threat of a soldier having a portable rocket launcher attacking a tank from some unseen location. Some might say that World War II was won by the presence of air power, but its the ground forces who actually are responsible for holding the territory once its won.
Personally though I find this Mobile Suit boring. But then again, I think its because I'm not really into cannon fodder type of mobile suits. So if Bandai asked me if I wanted a Master Grade version of this I would have to decline.
Available at these Online Shops:
Related Products
The 1/144 HGUC D-50C Loto is selling for
1170 yen
at
Amiami
,
1600 yen
at
Hobby Link Japan
,
$$$$
at Amazon 3rd party sellers.
Construction Manual and Color Guide for the D-50C Loto was translated to English from the original Japanese manual posted at
Dalong
.