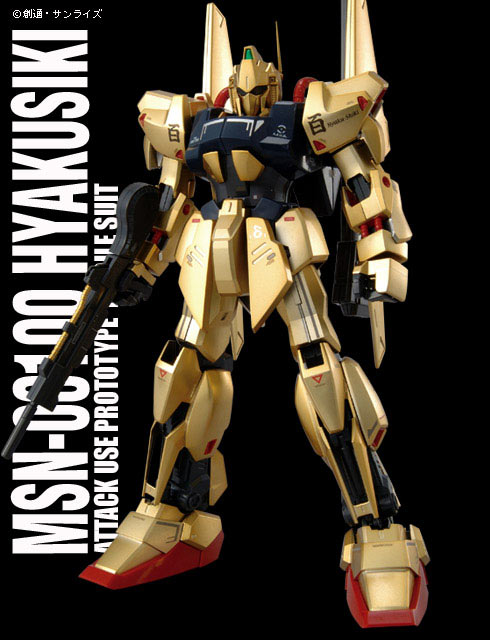 I thought that Bandai released only 2 Master Grade versions of the Hyaku Shiki, one was the
regular Hyaku Shiki
with shiny gold plating, while the other was the one with the Balute system. So I was very pleased to find out that they released another variant known as the
Hyaku Shiki HD version
In the first Hyaku Shiki the gold parts are plated. In this variant its nice to see that you'll be given the chance to paint the body. I was surprised to find out too that this can be achieved by using a base coat of silver then topped with a mixture of 75% clear yellow and clear orange (25%). I guess if I was the one who did it, what with my meager resources of paint variety due to my geographic location, I'd go for an industrial metallic gold color.
Update (02/19/2010):
Oops, wait a minute, this is the same color mixture posted on the manual of the ballute system Hyaku Shiki. Be careful as you might end with the same yellowish tinge as that of the
Hyaku Shiki Ballute System
.
Color Guide was translated from the manual posted at
Dalong
.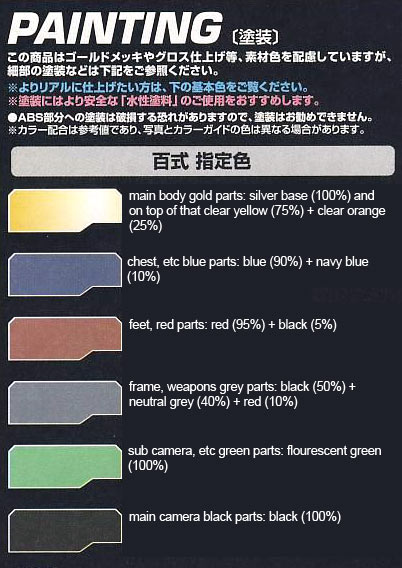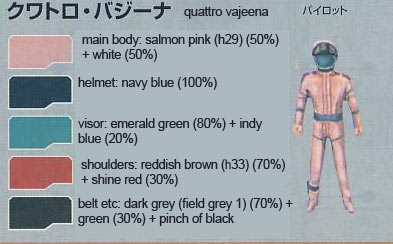 So far the only shop that I see that's carrying it is Hobby Search, who is selling it for
4800 yen
. The non-HD version of the Hyaku Shiki I see is selling for
$$$$
at Amazon
More translated color guides can be found
here
.