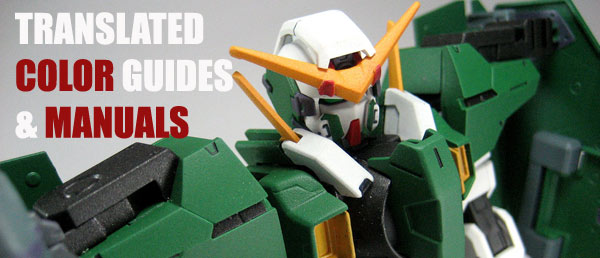 Please Read this First:
Kindly refer to the color chart posted below when using the translated color guides to look for the corresponding paint number. That's because the translated katakana name of the color guide is sometimes different from the english name of the GSI creos paints. So if you go on the translated color guide alone, there might be a slim chance that you won't find that GSI Creos paint color in your local hobby shop. When buying/ordering the GSI Creos paint I'd recommend using both it's paint no. and the english name because I'd seen instances where GSI Creos changed the paint number designation from its english name.
An example of the difference between english name and katakana name is with the most common colors found in the Gundam Model kits:
Indy Blue
and
Daytona Green
. Their English Equivalent are
Bright Blue (C65)
and
Bright Green (C66)
but if you translate its katakana equivalents in the color guide it says Indy Blue and Daytona Green. Why GSI creos did it this way I have no idea :D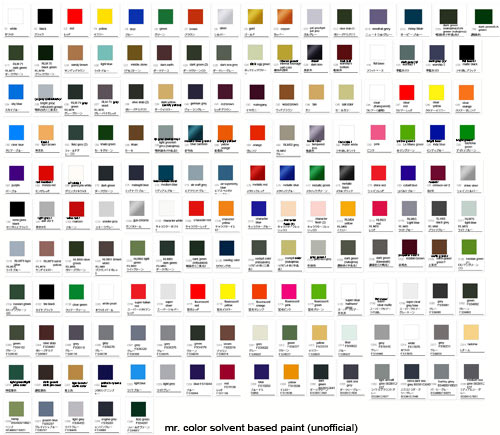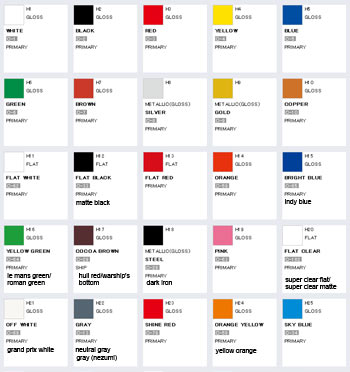 The recommended paint has always been the GSI Creos brand. For reference you can use these translated color charts of the GSI brand of paints:
GSI Creos Gundam Color Chart
,
Mr. Color Solvent Based Paint Color Chart
. Aqueous Hobby Color can be found
here
. Kindly read up on this
disclaimer
also.
Here is also a great reference chart for
paint color conversion and their equivalents
, in case you prefer to not use Mr. Color or Aqueous Hobby to paint your model kits.
The color guides were mostly taken from the manuals posted at either
Dalong's Gunpla Model Kit Review Site
or
Hobby Search
.
If you are painting a
Bandai kit
, the meaning of the symbols found in the manual can be found
here
, when painting
this information
might come in handy. For a
Kotobukiya kit
, the meaning of the symbols found in their manuals can be found
here
.
If you have difficulty looking up the color guide, kindly try using the "Find" function of your browser or the search bar on the right side in order to search for it before shooting me an email. Oh, and I'm usually busy most of the time so my apologies beforehand if I haven't replied to your email as it sometimes gets really piled up.
Link to Pages of Translated Color Guides: