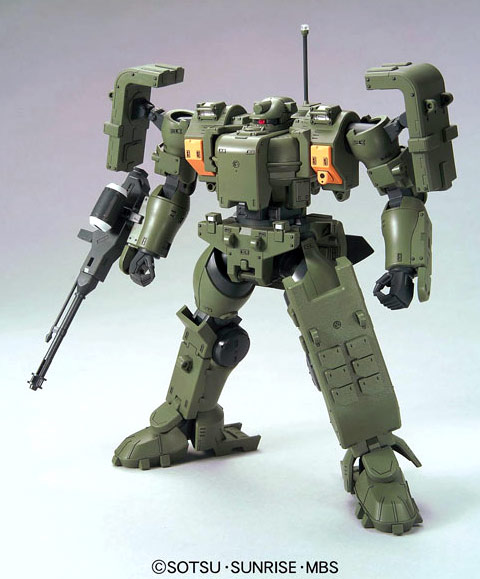 Update:
English translated construction manual of the 1/100 Tieren can be found
here
.
The Human Reform League's
MSJ-06II-A Tieren Ground Type
from the Gundam 00 Season 1. The Zeon Mobile Suit definitely has such as strong influence on this one, with the color, the mono eye and the shape of the head. There is also a
space version of the Tieren
with large propellant canisters on its legs and is usually colored blue. Another
Tieren type is the Taozi
which was specifically designed to take advantage of the Quantum brainwaves of
Soma Peries
. Bandai however did not make any 1/100 kits of this, only some High Grade versions.
There are other Tieren types that you can see at the
Gundam 00 official site
. The Tieren looks more like a brute mobile suit with defense and offense more in mind rather than maneuverability. Some versions give it limited flight capability but I don't think it can match the maneuverability of a Gundam or even an Enact or Flag fighter.
Color Guide was translated from the manual posted over at
Dalong
. This posts seems to be the
last of the translated color guides
by me of the 1/100 Non Grade model kits in the Gundam 00 line of Bandai.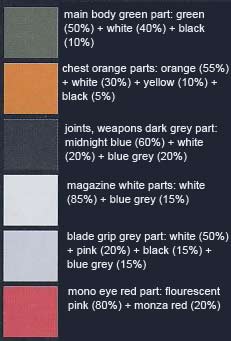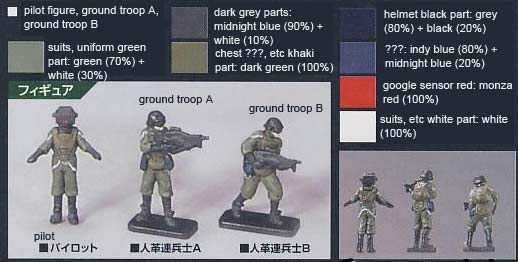 The Tieren Ground Type costs
$$$$
at Amazon,
2800 yen
at
Hobby Search
,
2800 yen
at
Hobby Link Japan
,
2054 yen
at
Amiami
,
1959 yen
at
HWJapan