Quattro Bajeena's Hyaku Shiki from the Zeta Gundam Anime series gets the
Super Deformed
treatment by
Bandai
and with it comes a bonus of the Mega Bazooka Launcher included in the kit. Quattro Bajeena was the pseudonym of Zeon Ace Char Aznable as he was on a secret mission for Zeon on earth where eventually found himself on the side of the Anti Earth Union Group fighting the tyrannical Titans of the Earth Federation.
Construction Manual
was translated to English from the Japanese Manual posted at
Dalong's Gunpla & Model Kit Review site
.
Available at these Online Shops:
(#Ads)
Similar Hyaku Shiki
Related Color Sets, Add-ons & Reference Materials
(#Ads)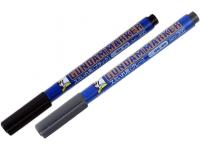 Related Products
Instruction Manual