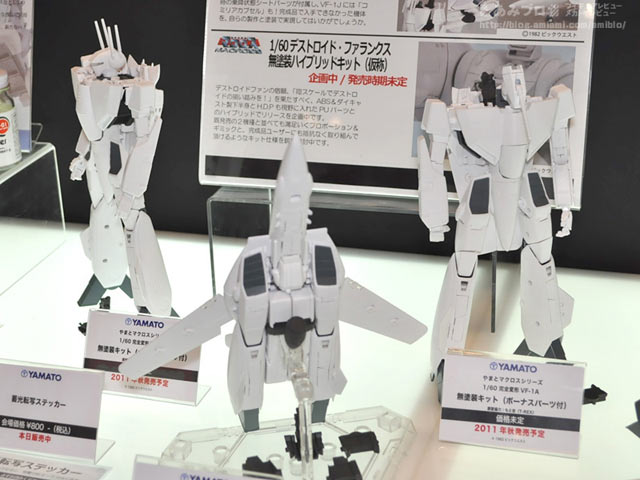 Update
: Up for
pre-order
already at some online hobby shops.
Just saw
this
today at
Amiami
Blog in their coverage of the Yamato Toys booth at the 2011 Summer Wonder Festival (Wonfes).
Judging from the image above, it looks like Yamato Toys will be releasing (I hope!) a 1/60 VF-1A Valkyrie No Paint kit, similar to the
1/60 VF-1S no paint
released a few years back. This kit which will also have bonus parts that go along with it. The bonus parts are similar to the bonus parts that came with the
1/60 GBP-1S by Yamato Toys
which are side blocks to hide the gap in the side of the torso during Battroid mode as well as on the shoulder parts. There is also a chair that allows you to recreate the scene in Battroid mode where the head is pushed forward and the pilot chair is exposed on top.
But what is truly the exciting news in this image is the poster at the back which announces a 1/60 Destroid Phalanx No Paint Hybrid kit (temporary name). Too bad however that the Japanese characters are quite small so I can't really read what the message is trying to say that well. Either way, that's really good news as it means that another of the Destroid corps mecha gets beautifully rendered by Yamato Toys in 1/60 scale. I guess the only thing left unbuilt by Yamato Toys from SDF Macross anime is the
Spartan
and the
Monster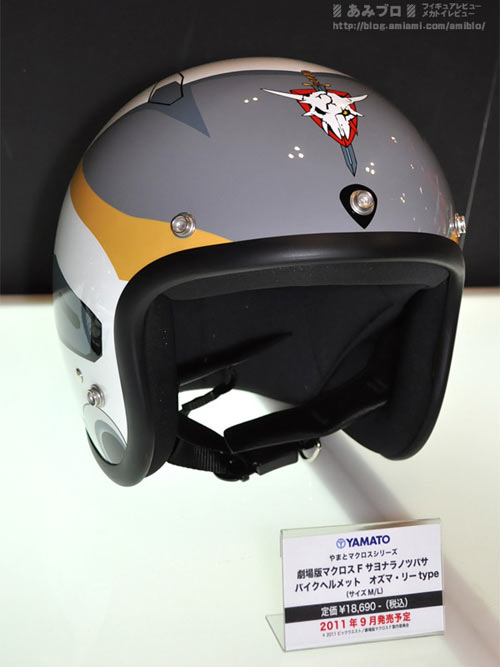 Now this announcement for the Macross F Sayonara no Tsubasa bike helmet Ozma Lee type (size M/L) also excites me. Because could this mean that Yamato Toys has a license to product Macross Frontier based goods that as of now has been the sole domain of Bandai?...interesting.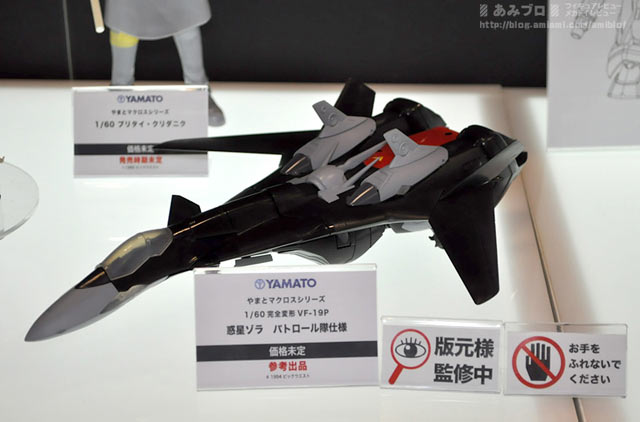 Lastly, among the images found in the Amiami blog post is the announcement for a VF-19P. The protoype is still rough with what seems to be a red shield taken from the
1/60 VF-19 Fire Valkyrie Kai of Basara Nekki
, but its nice to see an actual model in the flesh.
Something I wish they would announce is a production version of a 1/60 Regult that initially came out as
Limited run HDP Regult Resin kit
. That would really make every Macross Fan's Christmas.