Designated as the Crimson Guard Commanders, twins Tomax and Xamot came out in the 1985 GI Joe Real American Hero Toy Line up of Hasbro. The twins were sold as a two figure set and came with 2 pistols and a skyhook.
The twins in the series are identical twins but prefer to dress and appear as exact opposites of each other. By "opposite" I mean as the reverse and not really wearing different clothing. In the TV series it was shown that each twin could feel the pains and sensations felt by the other. This had the benefit of also allowing the twin to track the other's whereabouts.
Filecard for the 1985 Tomax and Xamot Figure from the GI Joe Real American Hero.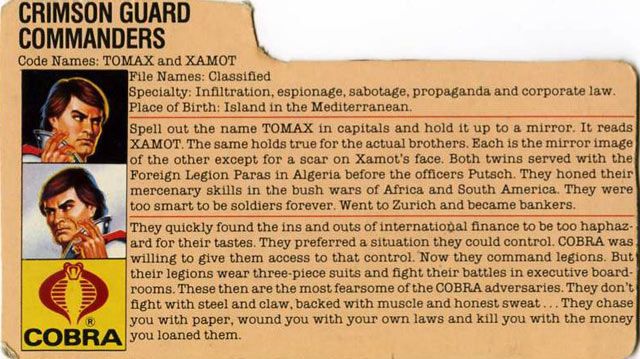 In the GI Joe Toy Catalog and the commercial below, Tomax and Xamot are depicted as having wavy hair, but in the actual toy their hairstyle are actually clean cut. I wonder what the last minute change up was for. Probably to make them resemble more easily their cartoon persona.
The twins command the elite
Crimson Guard
forces of Cobra whose task is more for infiltration and economic sabotage. After the financial crisis of 2008, that was due to the subprime crisis, one can't help but notice the similarity between what the Tomax and Xamot do with the perpetrator's of the financial crisis. The difference was that the former was doing it for world domination, while the latter did it for pure greed. Of course one were fictional bad guys while the other just makes you cringe with the thought that "real" bad guys like that exist.
Xamot
More pictures found in the next pages
The silver over paint is my fault as I used some Tamiya Silver enamel paint to cover up the silver parts that flaked off due to playing. The lesson learned there is to always use a
super fine brush
for painting details.
Tomax
Some kind of pouch in one of the gloves of each figure
Stilleto found at the boot.
Side arm on each figure
Pistol with telescopic site. Not really sure if this is a pistol or a submachine gun
Skyhook. Looks more like a zip line if you pass the line through instead of tying it to the Skyhook
Skyhook unbundled
Tomax